Firm 'confident' no repeat on student loan delays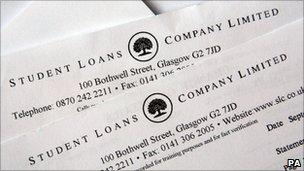 The firm processing student loans and grants in England says it is confident there will be no repeat of last year's delays.
In April, Price Waterhouse Coopers warned the Student Loans Company lacked "focus and urgency" in ending problems that left thousands of students without funds.
SLC said it had approved more than 60% of applications received so far.
Several students have told the BBC of delays and lost documents.
But the volume of complaints has been much lower than in 2009, when only 46% of applications had been processed by the time the academic year began.
One 2010 applicant, Guy Emmot from East Sussex, said he had been unable to go on holiday after the SLC had not returned his passport.
The company said it had no record of receiving the passport, although he said it was sent recorded delivery in the same envelope as his daughter's birth certificate, which was subsequently returned.
He disputes the company's claim that he did not tick the required box on a form to say he was enclosing a passport.
Another, Boryana Dimitrova, applying from Bulgaria, told the BBC she had had to send an identity document three times before the company managed to locate it - despite it having acknowledged receiving a form sent in the same envelope.
The SLC said it had received 885,028 items of information since January, and received only 108 complaints about lost items in the past five months.
It said it had received, processed and returned 29,723 passports since March 2010.
The company said it expected to deal with 80,000 more applications from first year students than last year, together with applications from second years.
But it said it had already received 80% of the applications it expected for 2010.
Of those, more than 60% had been approved, 15% were waiting for further evidence, and the rest were still being processed.
It said it was "very confident" that most students who applied before the deadline would have their loans paid "three to five working days after they register at university".
A review by the firm Price Waterhouse Coopers in April said the company showed a "surprising lack of focus and urgency" in addressing the problems that had thrown the system into chaos.
And in March, the National Audit Office warned there was a "substantial risk" that students would face delays again this year.
In May, shortly after the new government came to power, the company's' chief executive and the chairman resigned.
Giving evidence to the Public Affairs Committee in late July, Simon Fraser, the Permanent Secretary at the Department for Business, Innovation and Skills, said that improvements at the company between December and February were not fast enough.
But he said he was "confident that there will be a better service this year".
Problems with the student loans system were first highlighted by the BBC News Website back in August 2009.
SLC bosses insisted any delays were in line with previous years, but a Freedom of Information request revealed some 50,000 students were waiting for their loans.
They blamed problems with the telephones and a faulty scanner system, but later reports into the chaos revealed management had underestimated the scale of the task ahead of them.
The SLC now says new scanners have been installed and are functioning effectively.
Students and their parents were asked repeatedly to send birth certificates and sensitive documents, many of which were mislaid.
Disabled students and those with complicated applications faced particularly long waits.
Related Internet Links
The BBC is not responsible for the content of external sites.