Coalition education: first 100 days
By Sarah Campbell
Education correspondent, BBC News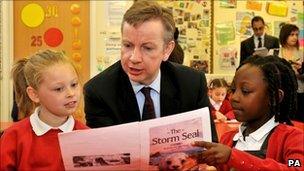 Of all the new secretaries of state, few could be described as needing a summer break as much as Michael Gove.
A major plank of new legislation, numerous quangos axed and serious case reviews published, not to mention a botched announcement on school buildings leading to a demonstration and a string of apologies.
And his reforms to England's education system have been introduced at break-neck speed.
First to go was the name.
Within hours of moving into the Great Smith Street headquarters, the Department for Children, Schools and Families reverted back to the Department for Education.
Legislative changes were not far behind. The day after the Queen's Speech laid bare the new government's intentions, the Academies Bill was launched.
In the face of accusations that it was being rushed through Parliament, the Bill received Royal assent just in time for the summer recess.
But former Conservative education secretary Lord Baker said Mr Gove was right to hit the ground running.
"If he had not achieved this, then the changes he wants to make in education would have been halting and slow and hesitant and would have made not much of an impact even by 2014," he added.
All schools are now free to apply for academy status. Although early departmental pronouncements hinted that more than 1,000 wished to do so, fewer than 200 have applied so far.
Perhaps more important than the initial numbers, is the ideological shift the Bill represents.
The Academies Bill facilitates a move from a state-run to a free market approach to schooling under Mr Gove's so-called "free schools".
Rather than relying on the authorities to determine the best school for your child, parents, teachers, charities and "new providers" are being encouraged to go it alone and set up their own schools using state funds.
So far the department says more than 60 such schools are in the pipeline.
There are more than 20,000 schools in England, and so the number who have applied under the new legislation is comparatively small.
Estelle Morris, an education secretary under Tony Blair, argues the "jury's out" on the significance of Mr Gove's Academies Bill.
"If it goes as he wants, and many schools go on to be academies or free schools, I think these are big changes...because it leaves the centre of a local school system with too little power and too few resources to do anything.
But, she says, if few schools go for the plans, then it is little more than a "big waste of time".
In common with every other government department, education is having to make savings.
Axing the school building programme may have seemed necessary, but it has provided Mr Gove with his biggest political headache to date.
Cancelling more than 700 school rebuilds was never going to be easy, but the inclusion of several mistakes in the initial list of named projects whipped up the tension and attacks on the new secretary of state.
He was labelled a "miserable pipsqueak of a man" by one angry MP and on a hot, July day hundreds of teachers, parents and pupils marched on Westminster.
While Building Schools for the Future may have become the most high profile cut there have been plenty of others.
Contactpoint - the database which was to have stored the details of every child in England; playground grants to local authorities; Labour's planned expansion of free school meals; the ending of the Child Trust Fund and Health in Pregnancy Grant and quango's including Becta, which promoted technology in schools, and the Qualifications and Curriculum Development Agency.
With council education chiefs being told to save over £300m, and more cuts expected after the Comprehensive Spending Review in October, the bad news is likely to be far from over.
That has led many within the education sector to question the introduction of new legislation when budgets are being squeezed.
John Dunford, general secretary of the Association of School and College Leaders, says: "I think this particular government has, just as Labour did in 1997, tried to do too much too quickly and what I want to see is a greater emphasis on supporting schools to continue to raise standards at a time when inevitably resources are going to be much scarcer".
Despite the dropping of "families" from the department's name, it does remain a key area of responsibility.
Child protection gained prominence following the death of Baby Peter, with the then Children's Secretary Ed Balls becoming personally involved in the removal of the head of Haringey children's services.
The coalition has already made good on their pledge to publish, in full, serious case reviews which outline the failures of support services.
However, concern has been expressed that this government is focussing too heavily on school reform and that other important areas of responsibility such as child protection risk being overlooked.
Although the summer recess is providing some respite from proposed school reforms, a White Paper is due to be published in the autumn.
This is likely to set the change train in motion once again.
A review of the curriculum is planned, as well as reform of qualifications from tests for 11-year-olds to the A-level.
Details on the pupil premium, whereby funds are to be targeted to the poorest pupils are expected, and there will be more plans developed on children with special education needs.
But as with all government departments, the ambition to implement reform will have to be tempered by how much money is available.
And that will not be known until after the Comprehensive Spending Review in October.
Related Internet Links
The BBC is not responsible for the content of external sites.