A-level success despite all the odds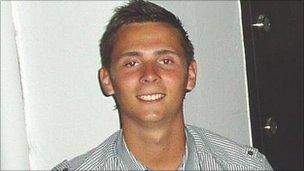 The A-level pass rate may be up this year, but for some students success has been particularly hard fought.
A year ago, 18-year-old George Shopland, never thought he would be going to university.
In his lower sixth year at St Brendan's Sixth Form College in Bristol, George was subjected to an unprovoked attack which left him with a fractured skull.
But with two As and a B at A-level his place at Cardiff University to study civil engineering is secure.
The youngster has worked hard to overcome the injuries, after he was attacked with a brick while on a night out with friends.
The attack left him in hospital for five days, and he missed a lot of time from school.
"In the AS exams last summer, I failed a lot of them and scraped Es in some of them."
But with a lot of extra hard work in his upper sixth year, George sat his A2s this summer in maths, physics and design technology graphics.
George said: "A year ago I would never have thought I'd be going to university this year. I am absolutely over the moon.
"I thought I'd have to do an extra year to catch up - it's such a great achievement."
Jessica Schofield, 19, from Hillsborough College in Sheffield, is celebrating three As at A-level despite having struggled with the chronic fatigue syndrome, ME.
She got the grades in chemistry, biology and psychology, which will secure her a place at King's College, London, to read biomedical science.
"I've had ME for four and a half years now, since my GCSEs and I ended up with six GCSEs because of it. I had to leave school," says Jessica.
She was out of school for a year before she felt able to take up a place at college to do A-levels
So, how confident is she that her illness will not hamper her university studies?
"It's something I am going to have to work through," she said.
"It's a lot better than it was, so I think I should be able to manage.
"But it's always there in the back of my mind, like what'll happen if I have a relapse because I'm a long way from home. It's going to be about trying to find a balance."
A teenage mother is also celebrating today after getting the right A-level grades to get into her first-choice university.
Natasha Hall, 19, left school to have her first child at 15, then gave birth to her second just three days before her AS-level exams, returning after the summer break to finish her A-levels this year.
The teenager, from Desborough, Northamptonshire, who studied at Tresham College of Further and Higher Education, has picked up two C grades in business and history A-levels, an A in psychology AS level, and a C in sociology AS level.
But Miss Hall, who is now going to study psychology at De Montfort University in Leicester, said she never saw being a young mother as an obstacle to her education.
"It's what I wanted to do, so I didn't see why I should stop just because I have had two kids," she said.
"I've had to figure out childcare, but I've just got on with it. I suppose it has been hard but I have never really noticed. I just had to find another way to do it."
Miss Hall gave birth to daughter Amelia at the age of 15, then went on to complete a First Diploma for IT Practitioners before she started studying for her A-levels.
Three days before her business exam last year, she gave birth to second daughter Sienna, but said she did not let that stop her carrying on her studies.
"I came in three days later to do my exam, then when I finished exams I had the summer off and carried on with my A-levels after the break," she added.
"I don't see it as a struggle, I've never struggled. You just make sacrifices."