University place scramble gets under way
By Hannah Richardson
BBC News education reporter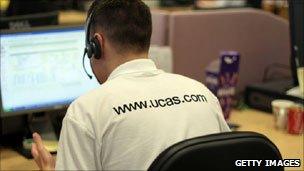 A scramble for university is under way with up to 186,000 students chasing a dwindling number of unfilled places.
With another record in the A-level pass rate, and 27% of entries gaining As or A*s, the competition appears more intense than ever.
The university admissions service said 2010 was perhaps the toughest year for admissions for the past decade.
More than 300,000 students in England, Wales and Northern Ireland have been receiving A-level results.
The university admissions service, Ucas, said a record 379,411 university applicants had already got their places - up more than 8,000 on the same point last year.
When clearing, the system which matches unplaced students with unallocated places, opened this morning there were places on 18,000 courses available.
This compares to places on 32,000 courses last year, and comes after many universities said they had fewer clearing places than last year.
By 1400 the Ucas advice line had taken 9,285 calls and seen 740,463 log-ins to its online application tracking system. The advice line is staying open for an extra hour to cope with demand.
At this point, some 186,494 people were without a university place and eligible for clearing.
This is because they either had not got the grades they needed for their chosen courses, had received no offers or applied late.
At this time last year, about 135,000 were in this position - 21.2% of total applicants. This year it is 28.2% of the total.
There is no available figure for the number of unallocated course places, but universities are saying generally that there are fewer places available.
And places are going fast at the universities which have entered the clearing system.
Manchester started with 120 clearing places and now has 40 left, while Liverpool said it anticipated filling most, if not all, of its available places by the end of Thursday. Exeter, for the first time, offered no clearing places at all.
The University of Leicester said it had filled the fewer than 100 places it had available by 12.30, while Birmingham City University said it had filled about 100 of the 200-300 clearing places originally available.
The University Alliance, which represents 23 business-focused universities, said the small number of remaining places available at its member universities were being snapped up.
It said call volumes had been as much as twice as high as last year in some cases.
Some 660,000 students have applied to university in the UK. There are more places on offer this year, but the numbers are capped and universities face fines for over-recruiting. In 2009, 482,000 students got places.
Ucas's chief executive, Mary Curnock Cook, said: "Thousands of applicants whose places have been confirmed today deserve congratulations for this achievement in perhaps the most competitive year for HE admissions in the last 10 years."
Universities Minister David Willetts congratulated students on their results and said that those who did not get the offer of a university place had other good options including apprenticeships and college places.
"There are more university places than ever before and already 380,000 applicants have got confirmed places at university. For those who have sadly not done as well they hoped, there are places available in clearing."
National Union of Students president Aaron Porter said a generation of young people were "facing a very uncertain future."
Professor Les Ebdon of university think tank Million+ said it would be a "tragic waste of talent" if thousands of applicants were left without places this year.
And Dr John Dunford, general secretary of the Association of School and College Leaders, said this year's applicants were the best qualified ever and it would be deeply frustrating if many missed out on university.
This year is the first time the A* grade has been awarded at A-level, with 8% of entries gaining the top grade.
More girls than boys attained an A*, which requires candidates to obtain 90% or above.
The overall A-level pass rate rose for the 28th year in row. It now stands at 97.6%.
Related Internet Links
The BBC is not responsible for the content of external sites.