University place shortage 'hitting 150,000 students'
By Hannah Richardson
BBC News education reporter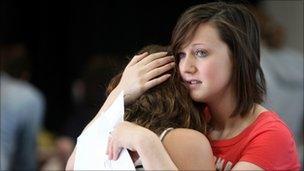 The head of the university admissions service has warned that at least 150,000 students will miss out on a degree place this year.
But Ucas chief executive Mary Curnock Cook also said there was evidence of a "very large number" - up to 70,000 - who were opting out of the system.
She said this was the right move for those with good grades who did not have the right offer and could re-apply.
It comes a day after students scored record A-level results.
With another record in the A-level pass rate, and 27% of entries gaining As or A*s and only a small increase in places, the competition is intense.
Up to 190,000 would-be students are still chasing a dwindling number of university places via the clearing system, which brings them together. At this time last year, nearly 142,000 were in this position.
And estimates on the number that will miss out at the end of the process range from Ucas's lower estimate of at least 150,000 students to higher ones of more than 200,000 not getting a place.
So far a total of 4,083 university places have been filled through the clearing system.
This is about 4,000 more than mid-afternoon on Thursday.
Ucas counted 1.5m log-ins to its application-tracking website and answered thousands of phone calls. And individual universities said they had received thousands of calls, jamming switchboards in some cases.
Ms Curnock Cook said: "We have also got some evidence of people who are opting out of the system this year. We've got about 70,000 who have rejected their offers or who have withdrawn from the system."
She suggested two reasons for the trend.
Some of those pulling out may be people who had got good qualifications but had decided to opt out for this year and apply again next year.
Others may have not been using their insurance offers properly, and when it came to it, had not wanted to take up the available place, she suggested.
She added: "Some of those people will decide to re-apply next year and I think that's the right advice for people who have got very good qualifications who perhaps haven't got the right combination in their choices and haven't got the right offer."
It could also, however, be a sign that because of the crunch on places, many students are thinking the courses available are perhaps not worth the effort or money.
Research out last week suggested students starting this year could expect to graduate with an average debt of nearly £25,000.
Ms Curnock Cook said there was a difference between those who are disappointed and those who plan to take a different course or re-apply next year.
"It will be over 150,000 who are, for one reason or another, unplaced or who withdraw from the system, but it will be another week or so before we have got a better idea of what that number will be."
Earlier she warned that 2010 was perhaps the toughest year for admissions for a decade.
When clearing opened on Thursday there were places on 18,000 courses available.
This compares with places on 32,000 courses last year, and comes after many universities said they had fewer clearing places than last year.
There is no available figure for the number of unallocated course places, but universities are saying that there are fewer places available.
Some 660,000 students have applied to university in the UK.
Overall there are more places on offer this year, but the numbers are capped and universities face fines for over-recruiting. In 2009, 482,000 students got places.
National Union of Students president Aaron Porter said students with good grades were scrambling for an even more limited number of places.
He added: "They are being encouraged by ministers to re-apply next year but can be offered no assurance in return that there will be a resolution to the annual places crisis."
Professor Les Ebdon, chair of university think-tank Million+, said the individual tragedy for each and every would-be student that misses out was compounded by the fact that universities are not "physically full".
"The decision by the government to only fund 10,000 additional places and to fine universities if they go over their allocated numbers has seriously limited the ability of universities to respond to the aspirations of students."
Related Internet Links
The BBC is not responsible for the content of external sites.