Oxford hopefuls urged to ditch the flute and work hard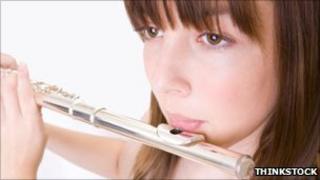 Students who want a place at Oxford should ditch the flute practice and get swotting, the university's head of admissions has said.
Mike Nicholson told the Times Educational Supplement he was looking for "excellent" people, not "second-rate historians" who play the flute.
The comments come as record numbers apply to university.
Universities Minister David Willetts has said that those without a place should improve their CVs.
Mr Nicholson said it did not matter if candidates had no friends or hobbies: offers of places at Oxford were based purely on an academic judgement.
But many students are encouraged to feature a wide range of extra-curricular activities in their university application forms.
Competition for places
Professor Mary Beard, who teaches classics at Cambridge University, said universities like hers were looking for the academically very able.
She suggested Mr Nicholson was trying to explode the myth that to get into Oxbridge candidates had to be head girls who played the lead in the school opera.
But she added: "Sometimes the kind of extra-curricular activities that kids do can tell us about their academic gifts as well.
"If I am looking for someone who is going to learn Greek from scratch, say, and I know they've got grade eight in the violin, then I know they've got a capacity for hard work and practice and keeping their heads down when the going gets rough.
"But ultimately when push comes to shove it's how good you are at the academic course you have chosen."
'Soft skills'
Professor Les Ebdon, vice-chancellor at the University of Bedfordshire, said employers were constantly telling him how important it was that graduates had the "soft skills" that employers need, like the ability to communicate and work well in teams.
"If there's evidence in a student's application that they have got those kind of skills, then they are very interesting to us," he added.
Competition for a university place is extremely tough this year, and students have been encouraged to try to stand out against the competition.
According to the latest Ucas figures, 181,000 students are still eligible for clearing, whether because they failed to make their grades, received no offers or applied late.
A record 677,000 people in total applied to start UK degree courses this autumn.
This currently leaves just over a quarter of those who applied without a university place.