Men in short supply in state primary schools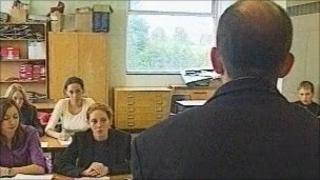 One in four state primary schools in England has no male teacher, statistics show.
Just one in eight primary teachers (12.5%) is a man, according to data from the General Teaching Council for England.
Teacher numbers have grown in recent years - but women account for most of the growth.
The data also suggests more people from ethnic minorities are becoming teachers and that teachers are getting younger.
In March this year, there were 25,896 men working in England's primary schools and nearly 182,000 women.
Across the profession, three in four teachers are women.
Men are most likely to teach in secondary schools, where they make up 38% of the teaching staff.
While the number of registered teachers in England has risen by nearly 30,000 in the past four years, the number of male teachers rose by just 2,000.
Getting younger
The situation in Wales is similar. One in six teachers in primary schools in Wales is a man, according to figures released in August, compared with one in eight in England.
The gap between male and female teacher numbers in Wales has been growing for the past four years.
However earlier this year there were reports that more men were coming forward to train as teachers.
The Training and Development Agency said the number of men applying to be primary school teachers in England in 2009/10 was 52% higher than in the previous year.
The TDA said numbers were rising because of the recession.
Nearly 568,000 teachers are registered in England - up from 538,000 in 2006 - according to the GTCE's annual census of people registered to teach in England's schools.
Data on newly qualified teachers show 9% were from non-white ethnic backgrounds, up from 5% in 2002.
The GTCE says since 2006, there has been a 6% increase in teachers aged 39 and under and an 8% fall in teachers aged 45 to 59.