Music tuition falling, poll suggests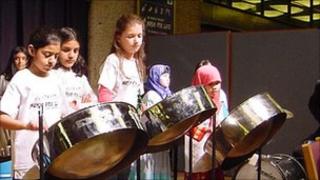 Fewer children are learning to play a musical instrument than in their parents' generation, a survey suggests.
One third of children play a musical instrument compared with two thirds of their parents at the same age, research for BBC Worldwide found.
And just 44% of the 1,046 parents questioned said it was important for their child to be involved in music.
However, other figures suggest the number of pupils learning instruments has risen over the past decade.
The most popular instruments for children are the guitar, the keyboard and the recorder.
Boys are most likely to learn the guitar (17%), the keyboard (8%) and the drums (7%), while girls are more likely to choose the recorder (11%), followed by the guitar, piano and keyboard (all 9%).
The survey, of 1,046 parents with children aged 18 and under, was carried out for BBC Worldwide.
It found 64% of children did not play a musical instrument.
Among the parents themselves, 34% said they had not played an instrument as a child.
The eldest child in a family is the most likely to play an instrument, the research suggests.
The UK survey, carried out by ICM, was commissioned in connection with the BBC TV children's music show Zingzillas.
Stephanie Cooper, editor of Zingzillas magazine, said: "As this research shows, fewer children are now learning musical instruments and parents may not be aware of just how beneficial music can be to a child's development.
"Young children love responding to music by dancing, singing, creating pictures or talking about what they hear, which gives them creative confidence.
"Hearing musical rhythms, patterns and sounds is beneficial for early literacy learning."
Informal
Fiona Harvey, education consultant for the Association of British Orchestras, said: "I find it surprising that these results have come about.
"Other research about children learning instruments has suggested that at least 50% of children have learned or are currently learning an instrument.
"Opportunities are out there. Perhaps if they [the children in the survey] had an opportunity to learn, they might not have continued. Also, there are lots of informal ways of learning music."
A study by the Institute of Education carried out in England in 2005 found just over 8% of pupils between the ages of five and 16 were learning an instrument in state schools.
Among juniors (aged seven to 11) 13% were receiving tuition, researchers found.
Numbers had risen since the early 80s, they said.
In 2004, the then Labour government launched a "music manifesto", which included the pledge to give every child in England the chance of free or cut-price instrument tuition.
A scheme called Wider Opportunities was rolled out in 6,500 schools in England, Wales and Northern Ireland which involved children learning to play instruments as a class for free.
Fiona Harvey said this had been a "fantastic initiative".
According to figures provided by the Federation of Music Services, the number of pupils learning an instrument has risen from less than half a million in 2002 to a predicted 2.1m next year.
The statistics on musical tuition in independent schools were higher, she added.
ICM Research polled 1,046 parents of children aged 18 and under online between 25-30 August.