Universities UK report warns over two-tier system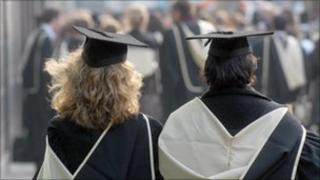 The traditional residential university experience could become the preserve of an elite, vice-chancellors are warning.
As universities struggle to cope with outdated funding models, more students will end up learning remotely and part-time, a Universities UK report says.
This may lead to a clear social divide between those receiving two different forms of higher education, it says.
It also warns ministers against decisions that will hurt in the long-term.
In a report for the vice-chancellors' body, UUK, published ahead of its conference, Prof Geoffrey Crossick says the current model for delivering higher education has been "inherited from the past when it was available to the very few".
And the University of London vice-chancellor argues the system is not financially sustainable and in need of radical reform.
'Real concerns'
"If mass higher education is too costly for it all to be delivered in traditional ways and with traditional funding, and if the changing demands of the economy require far more flexibility, then a much more diverse system will emerge," he says.
He predicts the range of alternatives will "explode" and that the variety of providers will grow too.
"There will remain a core of comprehensive, primarily residential and (most of them) research-based universities, but for the rest new markets and new business models will make them seem increasingly different."
He adds: "Higher education as a life-course stage will narrow to just one part of the population who experience it."
The rest would get their learning in a range of new ways including distance learning, studying in small modules and from a myriad of providers.
But he says there have to be real concerns about the consequences of these changes for social mobility.
'Regret'
Prof Crossick says: "The division may no longer be between those who get a higher education and those who don't, but between those who get a higher education in a comprehensive traditional university and those who access it through a myriad of providers in often small learning modules.
"Both will be needed by the economy and society, both will be of major benefit to the student and graduate.
"But unless we think about the issues now as we imagine the new system, we might end up with a clear social dividing line between the two forms of receiving higher education."
He acknowledges that universities have to be less costly, but warns against doing things because they are cheap.
If cost is the determining factor, he warns "we may well in 10 years' time deeply regret the wasted opportunity to produce the higher education system" that is required for the future.