Exams system 'diseased' and 'almost corrupt'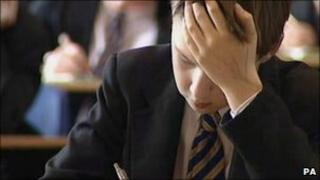 England's exam system is "diseased" and "almost corrupt", says a former government adviser in a book on Labour's education policy.
A former director at the Qualifications and Curriculum Authority, Mick Waters, says exam boards are conniving in the dumbing-down of school exams.
He also claims the boards profit from textbooks that help teachers with the answers to their own exam questions.
Exam regulator Ofqual said it would investigate claims of impropriety.
The comments come in an interview for a book by the outgoing head of education at the National Union of Teachers, John Bangs, and others.
In Reinventing Schools, Reforming Teaching, Mr Waters says that before working for the QCA he thought all the criticism about exams being "dumbed-down" was "unfair".
"You know, the old argument, more people passed than ever before. Since I've been there, I think the system is diseased, almost corrupt," he says.
This is because exam boards are vying for business in a marketplace, he adds.
He also says he has heard people from exam boards talking to head teachers and trying to sell their qualifications by implying their examinations are easier than those of other boards.
They offer "textbooks to help you through it," he adds.
Ofqual Chief Executive Isabel Nisbet said: "As a strong, independent regulator we are fully prepared to ask difficult questions about the examinations we regulate. Where we find shortcomings we report publicly on them without fear or favour.
"Ofqual will investigate any allegations of conflicts of interest or "insider dealing" about regulated qualifications.
"I challenge anyone who has concerns or criticisms of the system to bring us the evidence so that we can investigate and take action."
'Qualifications rigorous'
A spokesman for Edexcel, which is part of the Pearson publishing group, said: "Edexcel do not agree with Mick Waters. We have never said our exams are easier.
"We are confident that all our qualifications are rigorous, fair to learners and represent the highest possible standards. The support we provide in various ways all benefits the learner, to help improve learning.
"Competition between awarding bodies results in good service. A strong external regulator ensures that standards are maintained and no exams are harder or easier.
"Examiners are employed on specific contracts. They are generally not permanent employees of Edexcel, but have guidelines on the use of their association with Edexcel and are not permitted to conduct any of their private work in the name of Edexcel."
A spokesman for the OCR exam board said it had never claimed that its exams were easier.
Teacher's choice
It added: "The board endorses a range of publisher materials to provide quality support for schools delivering our qualifications.
"It is ultimately the teachers' decision which products they use and they will always retain that choice."
The book, based on interviews with teachers, heads, leading academics, politicians and policy makers, claims teachers concerns were not considered in the reforms of the Labour government.
This meant they were not convinced by Labour's education policy, it claims.
Labour's top-down approach to raise standards was "quite negative" and stemmed from an intention to woo the middle classes, it adds.
The book also reveals details of internal tensions within the government over policy issues.
Reinventing Schools, Reforming Teaching is published by Routledge.