Leaders back Oxford University school of government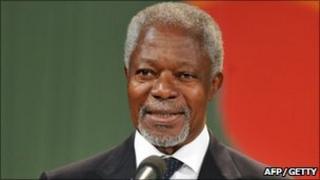 Oxford University is opening what it says is Europe's first school of government, with the backing of international leaders.
Funded partly by a £75m donation from Soviet-born philanthropist Leonard Blavatnik, the school will train top graduates in the skills needed for government.
It has the backing of world statesmen Nelson Mandela and Kofi Annan.
The school also has Prime Minister David Cameron's support.
Mr Cameron said the school would create "a new avenue for training and research in the crucial field of good government and public policy in this country and around the world".
He added that Mr Blavatnik's gift was a "very generous act of philanthropy".
Mr Blavatnik set up US industrial group Access Industries after emigrating to the US in 1978, and has had long-standing involvement in educational projects including a number of prominent universities.
'Huge milestone'
Former UN secretary general Mr Annan said: "More than ever before, we need a new generation of leaders who understand the different dimensions of society and the economy, and its implications for governance and public policy.
"I am certain that the school of government at Oxford University will spearhead this new approach to leadership and public service."
Mr Mandela said he was delighted about the establishment of the new school.
Professor Andrew Hamilton, vice-chancellor of Oxford University which is contributing an extra £26m, said the development of the school represented a "huge milestone" in the university's history.
"It will give tomorrow's leaders the best of Oxford's traditional strengths alongside new and practical ways of understanding the challenges of good governance," he said.
He added that Oxford had educated 26 British prime ministers and more than 30 other world leaders, but that until now international schools of government have all been outside Europe.
The Blavatnik School of Government would develop leaders in both private and public sectors and would aim to address complex global problems in new and practical ways, Oxford said.