Fee rise 'will not stop demand for university places'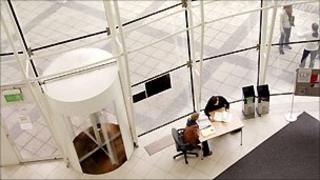 Increasing tuition fees - even to £10,000 per year - would not significantly reduce applications for university in England, say researchers.
But the University of Leicester study suggests poorer students would be more likely to be put off from applying.
The research involving 730 sixth formers also found new universities would be the most likely to lose applicants as a result of higher fees.
Next month Lord Browne will deliver his report on university funding.
University applications have risen sharply in recent years - and this study provides a detailed analysis of how any increase in fees proposed by the Browne Review might change the appetite for degree courses.
Value of a degree
This in-depth study suggests that the demand for university places is going to remain strong - with 90% of would-be applicants saying they would not be put off by fees of £10,000 per year.
"Despite the prospect of fees more than doubling, most would-be students would still seek to attend university," says the study.
Sir Bob Burgess, vice-chancellor of Leicester University, says it shows that young people now "appreciate the value of a degree to their subsequent careers".
But he says the challenge now is to "devise a system that means no-one is disadvantaged because of cost".
At present, fees in England's universities are £3,290 per year - and the study from Leicester University suggests that this current charge puts off about 6% of potential applicants.
A slight rise in fees to £4,000 pushes up the number of those deterred to 8%, but beyond that point a suggested rise in fees does not have a major impact on applicants.
If fees were anywhere between £6,000 and £10,000 the surveys says about 10% of students wanting to go to university would be deterred from applying.
Wealth divide
But there are social divisions below the surface of these figures.
Teenagers from poorer families are more likely to be deterred by a fee increase. If universities charged £7,000 per year, 14% of poorer students would not apply, compared with 9% of better-off teenagers.
There were also differences between types of institutions and courses.
The survey shows that while the most prestigious universities would not lose applications from a fee increase, there would be much greater resistance to pay higher fees at new universities.
If fees rose to £7,000, as many as three in five potential applicants would re-consider applying to a new university.
There were also differences in attitudes towards higher fees for different subjects.
Applicants for medicine and law were relatively unlikely to be deterred by fee levels of £7,000 - but there was much more reluctance to paying such fees for arts and humanities courses.
The overall picture suggests that the leading universities and most sought-after subjects will continue to attract large numbers, regardless of fee levels.
But there will be much greater sensitivity towards cost in new universities and in courses which might lead to less lucrative careers.
Poorer students in particular are likely to be influenced by cost - and are more likely not to apply at all if there is any increase.
'Two-tier system'
Sir Bob said the findings showed that universities needed to be able to set different levels of fees for courses.
"The focus of the fees debate so far has been on how much universities should charge. But for a true fees market to emerge institutions need to be able to set fees at different levels for different courses.
"Under those circumstances newer universities would still be able to charge the maximum for their most popular and highest quality courses, while research-led institutions may need to charge less than the full amount for less popular programmes."
Sir Bob also argues that any fee increase needed to be accompanied by a package of financial support for students from poorer backgrounds to ensure that they are not put off applying.
Lord Browne's review into the funding of higher education is considering how much students should pay.
There has been speculation that he has been considering raising fees - likely to be called a "graduation contribution" - to £7,000 per year.
The funding system will have to support the growing demand for university - with tens of thousands of applicants being turned away this summer because of a lack of places.
The National Union of Students says the survey shows that a big increase in fees will create a two-tier system, with the greatest demand "clustering around a small group of universities".
"Fees have always unfairly impacted those from poorer backgrounds and this study just shows how wide the gap between rich and poor is when it comes to access to higher education," says NUS president, Aaron Porter.