Students say £10,000 tuition fee would be 'unviable'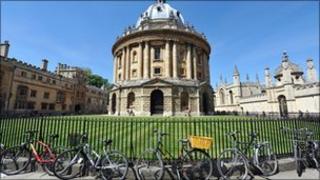 Students are calling on the government to rule out suggestions that tuition fees in England will be increased to £10,000 per year.
The National Union of Students says such an increase would make degrees "unviably" expensive.
Reports have claimed Lord Browne's review will recommend an increase in fees, plus a levy on higher earners.
A government spokeswoman said it would be premature to comment before the review had been published.
Next month Lord Browne will deliver his recommendations on funding higher education in England - including how much students will be expected to pay.
Extra premium
At present, tuition fees are £3,290 per year - but a report in the Sunday Times claimed that Lord Browne was considering raising fees to £7,000 per year, with the option of a further £3,000, if universities would underwrite the risk of loans for fees at this level.
There is also the suggestion that high-earning graduates would pay an extra premium.
The report also suggests that wealthy students could avoid such an excess charge by paying their fees in advance.
It is also widely expected that students will have to repay loans at a higher interest rate - with the Treasury wanting to reduce the cost of the subsidy of the current system.
"Raising fees would render university an inviable proposition for many of our brightest and most ambitious students... The government must rule out such proposals," said Aaron Porter, NUS president.
Such a fee hike would also put political pressure on the coalition government - as Liberal Democrat MPs fought the general election on a pledge to vote against an increase in tuition fees.
Spending cuts
Charges are set to be relabelled as "graduate contributions" - but the setting of a fee and the option of pre-payment would make it difficult for Liberal Democrats to say this was a type of graduate tax.
For instance, the Liberal Democrat MP for Cambridge, Julian Huppert, promised student voters at the general election: "I would vote to scrap student fees, whatever they may then be called."
Business Secretary Vince Cable, responsible for higher education in England, has raised the idea of a graduate tax as an alternative - and his department says that such "progressive" options are still under discussion.
"The government has asked Lord Browne to look at a model in which contributions are fair and progressive and related to people's earnings amongst the options he is considering to reform the funding of universities. We will need to see what options and proposals are put forward by the review this autumn," said a spokeswoman.
What is also emerging from the deliberations over funding is that increases in fees are likely to be accompanied by deep cuts in government funding for universities, particularly in teaching budgets.
Universities have voiced fears that they will see their budgets cut in the comprehensive spending review, while political doubts hang over any replacement funding from higher fees.
The long, drawn-out process of delivering this review means that the political and economic climate is very different from when it was announced in 2009.
Paul Marshall, head of the 1994 Group of research-intensive universities, says any increase in fee levels has to be seen in the context of overall funding.
If teaching budgets are substantially cut in the public spending review, then a fee of £7,000 per year could leave universities at the same level of income for some courses, even though students will be paying twice as much as before.
"You need to look at the overall package of funding," he says. There could be "quite dramatic" increases in student contributions without much financial advantage to universities, he says.
The political balance on fees has also changed with the election of Ed Miliband as the Labour party leader.
Mr Miliband has campaigned to scrap tuition fees and to replace them with a graduate tax.