Universities 'struggle with accommodation shortage'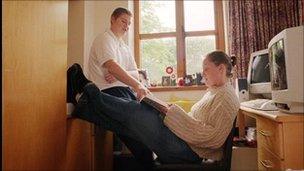 Universities are struggling to find accommodation for record numbers of new students, according to union leaders.
As students arrive for the start of the new term, universities are having to find rooms for increasing numbers of first years.
Anglia Ruskin University has asked local residents to rent out rooms because of "unprecedented demand".
Falmouth University College has had to put bunk beds into 200 of its bedrooms on campus.
"Moving away from home for the first time can be a difficult time for many students and an unsettled or unsuitable housing situation can add greatly to that stress," said Ben Whittaker, National Union of Students (NUS) vice-president
Universities faced record numbers of applications this year - and some were given additional places to help relieve the pressure.
But this has put pressure on accommodation - particularly for first years who are usually given rooms on campus or in halls of residence run by the university.
The NUS has reported shortages at universities including Anglia Ruskin, Sussex, Worcester and Falmouth.
Anglia Ruskin says it has been given an extra 540 places this term - and so far it has still to find accommodation for about 100 people.
"We are currently doing all we can to source additional accommodation both in Cambridge and the surrounding area," a university spokeswoman said.
At Falmouth University College, bunk beds have been put into a third of the rooms on campus, so that it can provide places for all first years.
The students are being given a 40% discount and a spokeswoman said that the arrangement seemed popular.
The University of Sussex says that about 200 students are on a waiting list for university-managed accommodation.
"The university has several measures in place for helping these students," said a spokeswoman.
"Many of them are staying with host families, those who live near the university are able to travel to campus until they are housed and we have also helped students find housing in the private sector."
The University of Aberystwyth says an earlier accommodation shortage has now been resolved.
The NUS said: "Whilst we appreciate the pressures placed on universities at a time when funding is being cut and student numbers are rising, it is unacceptable for them not to ensure there is adequate housing for their students either in university halls or local private accommodation."
Related Internet Links
The BBC is not responsible for the content of external sites.