AQA exam board to bring in exam-only GCSEs in England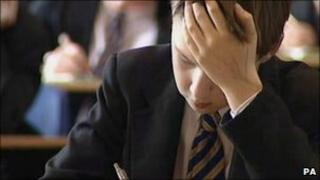 The AQA exam board, the largest in England, says it will offer GCSEs in which all assessment is done through exams at the end of the course.
Schools will be able to choose between the new model and the existing modular courses, which include task-based classroom assessments, from 2012.
AQA chief Andrew Hall also called for a limit on resits at AS-level, saying they distorted results.
He said AS results may count for too much of a student's A-level grade.
Mr Hall said a strong message had come from teachers that they wanted a choice of assessment methods, and that the aim was to cater for students with "different learning styles".
He said that controlled assessments, done in the classroom, had been brought in because "public confidence was lost" in GCSE coursework, with concerns over whether parents gave children too much help.
But some teachers were now complaining that the assessments took up too much time that could otherwise be used for teaching, he said.
Education Secretary Michael Gove has recently lifted the ban on state schools teaching International GCSE (IGCSE), which is assessed through traditional-style end of course examinations.
It is offered by the other two exam boards, OCR and Edexcel.
Mr Hall said more research was needed on the likely impact on the gender gap, with some academics saying girls tend to perform better at coursework than boys, explaining in part their higher levels of attainment at GCSE.
He said the exam-only option would be available in maths, English literature, biology, chemistry, physics, geography and history from September 2012, with some subjects possibly ready by 2011.
"Up until the change of government there was clearly virtually no real chance of actually being able to do something that was challenging the status quo," said Mr Hall.
"But the new government sent a very strong message about wanting much more freedom for teachers to choose what's appropriate," he said.
In After years of political control over our exams system, schools must be given greater freedom to offer the qualifications employers and universities demand, and that properly prepare pupils for life, work and further study.
For too long, children in state-maintained schools have been unfairly denied the right to study for qualifications like the iGCSE, which has only served to widen the already vast divide between state and independent schools in this country.
By removing the red tape, state school pupils will have the opportunity to leave school with the same set of qualifications as their peers from the top private schools - allowing them to better compete for university places and for the best jobs.
In June, Schools Minister Nick Gibb said: "After years of political control over our exams system, schools must be given greater freedom to offer the qualifications employers and universities demand."
Resits concerns
Mr Hall also said the number of resits AS-level students were allowed to do was distorting A-level results and called for a limit of one resit per exam entry.
Currently, an A-level is made up half of AS units, studied in the first year, and half of A2 units, completed in the second year.
Students can resit AS units at the end of the second year, enabling them to improve their grades with the benefit of the knowledge they have gained in the second year of study.
Research by AQA showed that 36% of students who had taken English and psychology A-level last year had resat AS level papers.
He said AS-level units "may be counting for too much", in representing 50% of a student's final grade.
"There's educational research that says you distort results if you allow students too many resits," he said.
Mr Gove has called for a return to traditional A-levels, assessed by exam at the end of the two-year course, in order to revive "the art of deep thought".
But Mr Hall said this was not in line with what employers and universities wanted.
However, to limit the number of resits would require a government policy decision and agreement from the other two exam boards, OCR and Edexcel.
A spokesperson for the OCR exam board welcomed research done into the issue, but said "we shouldn't rush into changing the system".
The introduction of the A* grade, which takes more account of pupils' marks in the A2 modules taken during their second year, may shift more emphasis on to A2, the spokesperson said.
Rising results, often referred to as "grade inflation", at both A-level and GCSE have sparked concerns that the qualifications may be becoming easier.