Academies call for new school building programme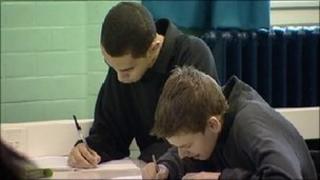 Academy leaders have called on the government to draw up a new school building programme in England as a matter of urgency.
The Independent Academies Association (IAA) wants ministers to recognise new buildings can revitalise poor areas.
It also urged ministers to ensure that tackling educational disadvantage remains a key focus for academies.
The Department for Education said it had launched a review of capital spending in schools.
This follows the scrapping of the Building Schools for the Future programme.
There have also been changes to the focus of the academy programme, which under Labour had been aimed at improving achievement in deprived areas.
Now schools rated outstanding can be fast-tracked to academy status. And many of these will be in wealthier areas.
The IAA, which represents principals, finance directors and governors in these independently run, state-funded schools, welcomed the expansion of the academies programme.
'Academies brand'
But it warned that it was vital that "there is a strong focus on academies as an essential way of overcoming poor attainment in areas of disadvantage".
The IAA said it recognised the need for a new, less costly capital programme in these "tougher times", but added: "It is vital that a new programme is developed soon and that the importance of new buildings as a package to renew poor performing schools is recognised."
A review of school building is currently taking place and is likely to report in the near future. It will seek to prioritise spending on school rebuilding where it is needed most.
The IAA added: "One of the strengths of academies is our brand. It is important that key features of that brand are maintained as the number of academies grows and their nature changes."
The organisation also called for those outstanding schools that convert to academy status and acquire a new headteacher to be subject to an automatic Ofsted inspection within two years of the change.
Education Secretary Michael Gove has said outstanding schools would no longer be subject to routine inspections unless there were complaints by parents.
The IAA also warned against undermining its schools' attempts to raise the attainment of pupils by using diplomas and other vocational qualifications.
"These courses not only develop a range of employability skills, they build the confidence of some students who may otherwise leave school with no qualifications to tackle academic subjects like English and maths successfully."
IAA chairman Mike Butler said: "We welcome the expansion of academy freedoms being offered to all schools by the coalition, but it is vital that the new academies retain their social mission and work to further raise standards for all children.
"At a time when the curriculum and qualifications are also under review, our members are keen to stress the value of good vocational qualifications in both developing practical skills and giving young people the confidence and wherewithal to undertake other qualifications.
"It would be a serious mistake to ignore these benefits, even if the value of some qualifications is reduced in the performance tables."
The IAA's call comes as three councils in England have started action aimed at challenging in court the coalition government's decision to cut the Building Schools for the Future (BSF) initiative.
Nottingham, Luton and Waltham Forest councils are seeking a judicial review of the decision, announced in July, to shelve the £55bn programme.
A Department for Education spokesman said: "We understand people's disappointment but the BSF programme was wasteful, needlessly bureaucratic and seriously behind schedule. It would have been inexcusable to have continued with the programme.
"Ministers have been clear that the end of BSF is not the end of school rebuilding. That is why the government has launched a comprehensive review of all capital spending in schools so that money goes to those schools in most disrepair and to deal with the urgent demand for primary school places."