Tory school reform: Autonomy v tradition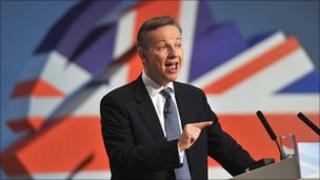 "The Conservative Party is now the party of the teacher," claimed the Education Secretary, Michael Gove, in his speech to the Tories' annual conference.
It's an interesting change. Not so long ago, teachers were frequently the demons of these conferences, often lumped in with the "loony left" and trade unions as barriers to educational reform.
For his set-piece conference speech, Mr Gove was flanked not by his fellow ministers, as is traditional, but by head teachers and teachers, all from state schools in challenging areas, and all keen to back his approach.
It is one of many changes that become apparent in and around the debates, fringe meetings, and bars of the Conservatives' first post-election conference.
Teacher-bashing is not the only thing noticeable by its absence - there has been barely a squeak about grammar schools.
At a fringe event a couple of Tory activists did manage to raise the grammar school question, but Mr Gove side-stepped them, saying he had "no desire to go back and re-fight the old battles of the 1970's".
Some of the party faithful may not like it, but David Cameron has so far successfully booted that potentially divisive issue into the long grass.
Autonomy
So where do the Conservatives now stand on school reform?
Autonomy is the buzzword driving schools policy - autonomy for schools and for teachers.
As the schools minister, Lord Hill of Oareford, told another fringe event the "structural changes" the government wants are all about "giving heads and teachers more freedom to do their own thing".
The basis of Conservative education philosophy, he added, is "to deliver as little as possible from the centre".
He cites his favourite example of excessive central direction, quoting civil service advice to head teachers that, when deciding which room to hold a school meeting in, they "should take account of how many people are coming".
The Tory direction of travel is for a smaller, less prescriptive national curriculum, a greatly reduced role for local councils, encouragement for new providers of schools and less red-tape tying the hands of entrepreneurial head teachers.
But it is not quite as simple as that. The rhetoric about trusting teachers has to be set against a shopping-list of things the Conservatives are telling schools to do.
These include, as Mr Gove said in his conference speech, a list of authors for English Literature lessons, a focus on "rigorous disciplines not pseudo-subjects", exams as tough as in South Korea, and history lessons that tell our "island story" and end the "trashing of our past".
That sounds a lot like central government issuing directions to teachers it does not quite trust to do the right thing.
Teaching quality
The Conservatives believe that teaching quality is the key to raising standards, and that teaching is best where schools are driven by professional judgements, but - like Labour before them - there are signs that they cannot quite let go of central control.
In part this is the result of two different strands of thought in the party. In one camp are the laissez-faire liberals who believe in a supply-side revolution, with new school providers creating a market for parents.
In the other are the traditionalists who want to emphasise an academic school model with uniforms, Latin, traditional history and phonics.
Sometimes Mr Gove seems to be straddling both camps, sometimes in a single speech. As one senior Conservative MP told me, though, "that is politics: you have to keep your grass-roots' support happy".
There are other areas of disagreement. One Tory backbencher, representing a rural area, wants to give the market-based reforms a chance to work, but wonders "how will the supply-side revolution work in a rural constituency like mine where for most parents there is only one school?"
Another concern was being quietly expressed around the edges of the Tory conference, particularly by local councillors.
This is that, unintentionally, the academy and free school policies - while pushing powers down to the school level - also take power to the centre, as it is the Secretary of State who approves these new schools and oversees their funding contracts.
A Tory councillor from Surrey asked why the government could not simply give greater autonomy to all schools in his area without them having to leave the local authority and become academies.
Local councillors also ask what will happen when there are 20,000 schools all directly accountable to the Secretary of State and things, inevitably, go wrong at some of them. As they point out, there will be no local authority to take the blame or pick up the pieces.
Some Tories are happy with the market analogy, comparing schools to supermarkets. If they offer parents and pupils a poor service, they will either have to reform themselves or go out of business.
But others worry about what happens to the pupils in those schools in the interim, before the market forces kick-in and trigger either a new head or a "fresh start" academy.
Fragmentation
Fragmentation is the word critics use to describe their concerns about the free schools and academies policy. What happens, they ask, to the weaker schools in the system?
But while some - both inside and outside the party - want to go more slowly, there is frustration on the right that barriers remain to a genuine supply-side revolution.
Representatives of for-profit private school chains have been attending dinners and meetings around the edge of the Tory conference, privately expressing frustration that they cannot open schools under the free schools policy.
At present, for-profit companies can only be invited in by others to manage schools on a contract.
That does not fit their business plan. They are willing to invest their capital in opening new schools so long as they can earn a profit in the long run.
Some of these operators believe ministers are keen to accommodate them, realising that this is the only way to achieve free schools at scale.
But ministers know this would be a political risk. For a start it would upset the Liberal Democrats, who are already unhappy at what they see as a threat to local democratic control of schools.
But more than that, some Tory back-benchers are uncomfortable with the word profit being part of school reform.
All political parties are, in themselves, a coalition of views.
And if you scratch the surface, these differences are all too evident - even as Mr Gove's school reform agenda forges ahead at pace.
Mike Baker is a freelance writer and broadcaster specialising in education. www.mikebakereducation.co.uk