Plane bomb suspect 'not radicalised at London's UCL'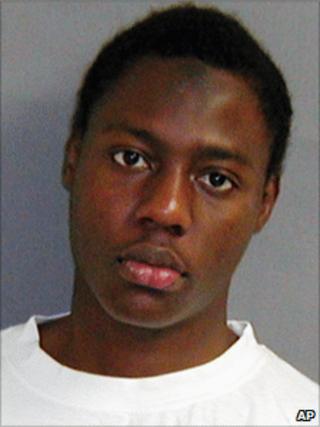 A man accused of trying to blow up a transatlantic airliner was not radicalised while at a UK university, a report has concluded.
Umar Farouk Abdulmutallab studied at University College London before his alleged Christmas Day 2009 attack on a Detroit-bound jet.
But a report for the university said the Nigerian graduate had not turned to al-Qaeda while studying in London.
However, the panel said the risk of radicalisation could not be eliminated.
The report also says the university should monitor those who speak on campus.
Mr Abdulmutallab is currently awaiting trial in the United States accused of the attempted bombing.
Passengers overpowered the former UCL student after he had allegedly attempted to ignite explosives hidden in his underwear.
He has indicated to the court that he will plead guilty to some offences at his eventual trial.
The student graduated from UCL in 2008, having spent three years studying engineering with business finance.
He then left the UK to study in Dubai - and later joined an Arabic language course in Yemen.
The UCL council asked a panel, chaired by an outside academic, to look into Mr Abdulmutallab's time at the university.
The report, published on Friday, said: "There is no evidence to suggest either that Umar Farouk Abdulmutallab was radicalised while a student at UCL or that conditions at UCL during that time or subsequently are conducive to the radicalisation of students."
Press commentators
The panel said a "consistent" picture had emerged from interviews with the former student's contemporaries.
They all said he was modest, polite, well-spoken and friendly. Nobody had reported any significant change in his character or behaviour.
Some of his Muslim friends considered him an "unlikely terrorist" because he was well versed in the Koran.
However, the report raised concerns about how effective the university and students' union had been at monitoring who was coming onto campus to speak at events.
In the wake of the arrest, a number of press commentators and think tanks attacked universities for not doing enough to stop extremist preachers speaking on campuses.
The UCL report said that both the university and the union should take steps to better monitor who was speaking at events - but said that there was no evidence that the students' own Islamic society was extreme.
It said the university should formally scrutinise events on the fringe of the campus and review its own code on freedom of speech in the light of a separate review of the issue by Universities UK, the national umbrella body.
It added the risk of radicalisation cannot be "eliminated" without altering UCL's educational mission and character.
Sir Stephen Wall, Chair of UCL Council, said: "He was sociable, he was affable, played football, he was a devout Muslim but in no sense proselytising, so, we don't know.
"He's in America, the Americans will no doubt find out. What was it between UCL and Yemen, and the plane to America, that apparently changed him."