Baccalaureate board probes Wikipedia plagiarism claim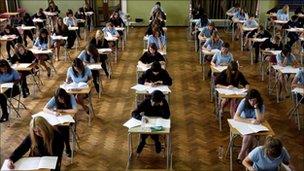 The credibility of the International Baccalaureate (IB) has been questioned amid claims parts of its marking guides were plagiarised from Wikipedia.
The Times Educational Supplement (TES) reports that guides for three history papers are being investigated by the IB's managing board.
The guides offer model essays and are used by examiners marking papers.
The A-level alternative is mainly taken in private schools, but ministers say other schools could offer it.
One IB examiner told the TES they were "shocked" to discover what was called "serious examples of academic dishonesty" in the guide for one of the papers.
He claimed information from 14 of 24 questions contained sections copied from websites such as Wikipedia.
A teacher who runs training workshops for the IB warned the programme had been put at risk and told the TES they were "livid" and "stunned".
The IB diploma, taken by teenagers, is currently offered in more than 200 UK schools and is becoming increasingly popular as an alternative to A-levels.
An IB spokesman told the TES: "The IB has always insisted on academic honesty throughout our examination system since the organisation was founded.
"We have always taken immediate and appropriate action when we discover any violation.
"The issue related to the history paper mark scheme is one of those cases, and our investigation of this matter is moving forward but has not yet been completed.
"As a general rule, for each exam session we investigate any and all allegations of malpractice.
"This includes deploying technology to screen and scan scripts, and conducting unannounced inspections of schools' arrangements for the examinations to ensure compliance."
Related Internet Links
The BBC is not responsible for the content of external sites.