Graduates face paying higher interest on student loans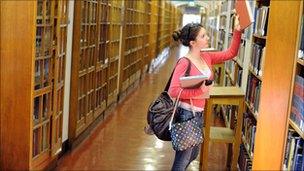 The government is considering asking all but the poorest graduates in England to pay a "market" rate of interest on their student loans.
Currently all graduates pay a low interest rate, linked to the base rate, on their tuition fee and maintenance loans.
The earnings level at which they start repaying loans may also be raised.
An official review of higher education funding is expected to call for the cap on tuition fees to be removed.
This would create a market between universities competing for students.
The review, by former BP chief Lord Browne, is due to publish its recommendations on Tuesday.
But as the Liberal Democrats campaigned in the election against fee rises - and all the party's MPs have signed a pledge to oppose them - ministers have been trying to reach a compromise that will be progressive enough to secure their backing.
The two sides are thought not to have reached a deal yet.
With a nod to this, Prime Minister David Cameron told reporters at Downing Street on Monday the issue was "very difficult" for the coalition.
He said: "Everybody has to compromise because the truth is that we all want the same thing."
He added: "The work that has been done by Vince Cable and David Willetts and others is so good that we hope we will all be able to sign up to getting a bold and radical reform of university finance."
Ministers have been considering a system of tiered interest rates, tied to graduates' earnings.
This may have meant higher rates for higher-earning graduates.
But the BBC understands ministers are now moving towards charging most graduates a flat, market rate of interest on their loans, with only graduates on low salaries enjoying the lower rate.
The threshold for paying the money back would be raised from the current level of £15,000.
Currently graduates who took loans out after 1998 pay interest rates of 1.5% - but this was only introduced this September - the previous year it was fixed at 0% for that year.
It is also expected that there would also be pressure on universities to provide more bursaries.
One government source said: "Our aim is to help the least well off, not to clobber the better off."
Former Liberal Democrat Universities spokesman Stephen Williams said his party's MPs had not necessarily moved away from their pre-election promises.
But he told the BBC's Today programme that he was waiting for the outcome of talks between Lib Dem Business Secretary Vince Cable and Conservative universities minister David Willetts, before commenting on whether the proposal would appease party members.
He said there was concern in the party about a market-based system developing, where different universities were able to charge different fees.
That risked skewing choices made by young people, he added.
"I'm really worried and I know a lot of my colleagues are worried that we may end up with a regime that makes people take choices they're not necessarily academically suited for."
Lord Browne's review is expected to recommend scrapping the upper limit on tuition fees in England.
But under what is being termed a "soft cap" institutions that raise their fees above £7,000 per year would have to take on the risk of requiring that extra payment.
This has led to speculation that £7,000 will be the upper fee for most degree courses.
This would mean more than doubling the current tuition fee of £3,290. And if the major cuts expected in the comprehensive spending review go ahead - it could mean few extra resources for a struggling university sector.
Andy Westwood, chief executive of GuildHE which represents some universities said: "Not all higher education institutions will be able to charge more for many of their courses.
"Lifting the cap on fees could be very damaging for them if coupled with across the board cuts in public funding for certain subjects."
Backbench Lib Dem MP Greg Mulholland warned over the weekend that he and others would oppose any attempt to raise fees.
"Many of us, certainly in the Liberal Democrats and I suspect probably across the House to some extent... will oppose any attempt to raise fees in the way that has been leaked from the Browne report."
Lord Browne's review of fees relates only to England but its recommendations will be watched closely by university vice-chancellors in the other nations who are facing the same funding conundrum.
Full-time UK students do not have to pay their fees up front - instead, the university is paid directly from the public purse, and the student pays the loan back after graduation.
Scottish students studying in Scotland do not have to pay any fees.
In the other nations, students take out loans to cover their costs, in Wales these are subsidised to a degree by the Welsh Assembly depending on income.
Related Internet Links
The BBC is not responsible for the content of external sites.