'Middle income squeeze' fee anger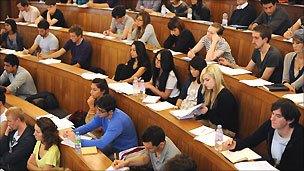 Middle-income families fear they are going to be unfairly squeezed by higher tuition fees, according to influential social networking websites for mothers.
It will add to the resentment felt over the cutting of child benefit, say the Netmums and Mumsnet online forums.
"Middle earners will say 'It's us again'," says Siobhan Freegard of the Netmums website.
A review into university funding in England has recommended there should be no limit on fees.
"There is a feeling that the rich can afford it - and the poor will quite rightly be protected - but people in the middle could find themselves really penalised," says Justine Roberts of Mumsnet.
Lord Browne's review has recommended the scrapping of the upper limit on tuition fees in England.
Many degrees are expected to cost about £6,000 to £7,000 per year - but the most prestigious degrees could cost £10,000 or £12,000 per year.
There are worries that this would close the door to ambitious youngsters from middle income families.
"Will this change decisions about where to go to university? It's anathema to us to think that only the rich will be able to go to the best universities," says Ms Roberts.
Mothers in middle-class families who are "just getting by" are feeling increasingly militant at the idea that they are taking the brunt of such policy changes, according to the websites.
"They're going to become much more vocal. We were overwhelmed by the extent of the reaction to child benefits," Ms Freegard.
In particular, she says they take issue with the feeling that the super-rich and the very poor are being protected, at the expense of middle earners.
And they fear that the increase in tuition fees is going to block their ambitions for their children.
"There is that feeling that they have worked hard to get a better life, they're just coping - but now they're being thwarted at every turn," says the Netmums co-founder.
"It's good that for so many children going to university is now an expectation, it's a huge sign of progress - but will this change all that?"
She also warned that mothers would be like "lionesses" if anyone threatened the chances of their children.
The government is expected to announce its response to the report around the time of the comprehensive spending review next week, in which major cuts to higher education are expected.
Ministers are currently trying to reach a deal under which the Liberal Democrats could accept a rise in fees, when the party's MPs signed pledges promising to oppose a fee rise.
Ms Freegard said that women would be much tougher judges of any political U-turns over fees.
"Men will say it's just business, politicians change their minds. But women will take that very badly, they'll feel betrayed," she says.
In the cuts and the increases in charges, struggling middle income families feel unhappy about being treated in the same way as the extremely wealthy, says Justine Roberts.
"It feels to the middle classes that they are taking more than their fair share. It increasingly seems as though that's the way it's going to pan out."
"They'll want the government to be careful not to deny opportunities to those who are not wealthy."
Related Internet Links
The BBC is not responsible for the content of external sites.