Student tuition fees: Browne review urges no limits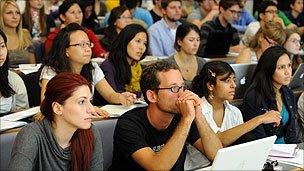 Universities in England should be able to charge unlimited fees, a major review of university funding has recommended.
Lord Browne's review calls for the £3,290 cap on fees, which students borrow in loans, to be scrapped.
Instead it proposes a free market in fees - setting out models of charges up to £12,000 a year for a degree course.
The UCU lecturers' union said the plan was "the final nail in the coffin for affordable higher education".
However, Lord Browne's review makes clear that universities that charge more than £6,000 a year would lose a proportion of the fee to help cover the cost of student borrowing.
Lord Browne told BBC Breakfast: "We have taken off the cap but we haven't taken off the restrictions."
He said all universities were different and needed different amounts of money to retain their world class status, but he predicted that few would put fees very high.
He acknowledged graduates would be paying significantly more back in their tuition fee and maintenance loans but insisted they were not being left with "mortgage-style debts".
"They would be paying the same interest rate as the government uses to borrow. They will only pay it back when their earnings go above £21,000," he said.
"If you choose to go into a job which doesn't pay very much or if you choose to go out of the workforce to build a family, you won't have to pay it back."
The report comes ahead of next week's comprehensive spending review, in which major cuts to higher education funding are expected.
Ministers will now have to respond to the proposals for reforming university funding - with the threat of a Liberal Democrat backbench rebellion.
Universities 'could close'
Increasing fees would mean a direct reversal of personal pledges made at the election by Liberal Democrat MPs - and will cause deep political difficulties for the coalition government.
The Liberal Democrats' own youth section has branded the fee rise as a "disaster".
Greg Mulholland, Lib Dem MP for Leeds North West, said he would vote against the plan.
But Business Secretary Vince Cable, who is trying to reach a deal with the Conservatives that the Lib Dems could support, told the BBC the proposals were "probably on the right lines".
The far-reaching recommendations set out a system in which much of the cost of a degree would be transferred from the taxpayer to the student.
Shadow university secretary John Denham said the report reflected the belief that teaching budgets would be cut by around two-thirds.
"This is a massive cut even when set against the coalition's aim to cut spending by 25%," he said.
The report seeks to balance much higher charges with support for applicants from poorer families.
This more competitive market would also mean that for the first time universities could go out of business, says the report.
Universities must compete over students, fee levels and against new providers, the review panel recommends: "If they fail... they might ultimately close or be taken over."
Lord Browne proposes that the government would guarantee to underwrite fees up to £6,000 per year - but universities would be allowed to charge any amount above that.
Universities would have to pay an increasing "levy" on fees above £6,000 - but even when charging £12,000, they would be able to keep almost three quarters of the fee.
As now, students would not have to pay fees up-front, but would receive a loan.
But they would not have to start repaying it until their earnings reached £21,000 per year, up from the current level of £15,000.
The report recommends that students should pay higher interest rates on these loans, set at the government's rate of borrowing - currently 2.2% - plus inflation.
All students will be able to borrow £3,750 per year - and young people from families earning less than £25,000 will receive an additional grant of £3,250.
There have been warnings that middle-income families will face a particular financial squeeze from such a fee hike.
"There is a feeling that the rich can afford it - and the poor will quite rightly be protected - but people in the middle could find themselves really penalised," says Justine Roberts of the Mumsnet website.
There are also radical proposals to shake up how higher education is administered, with four funding bodies and regulators being merged into a single Higher Education Council.
This would take over responsibility for standards, strategic subjects, access for poorer students and resolving disputes with students.
And there are also steps to ensure the quality of degree courses.
University lecturers should be required to have teaching qualifications - and students should reach a minimum threshold of qualifications before receiving student loans.
This summer saw an unprecedented demand for places - with thousands of well-qualified students missing out on places.
The report calls for the number of places to be expanded by 10% over three years.
There are also suggestions for a more diverse university system, which would encourage the introduction of new providers and different ways of studying.
Part-time students and those studying in private universities would be able to claim student support.
The Open University welcomed the report as a "landmark day for part-time higher education" - which would help to drive social mobility.
If accepted by the government, the reforms are expected to take effect in the academic year beginning in 2012 at the earliest.
Paul Marshall, executive director of the 1994 Group of research-intensive universities, welcomed the review as "the first progressive step" towards increasing funding for universities.
But the Million+ group of new universities said it would deter poorer students, and would "undoubtedly mean that some students who would have gone to university will decide not to go".
The National Union of Students said students would be left with "crippling levels of debt and many universities face utter devastation as a result of horrific cuts".
Elsewhere in the UK, Scottish students studying in Scotland do not have to pay any fees. In Northern Ireland and Wales, fees are charged up to a maximum of £3,290.
Related Internet Links
The BBC is not responsible for the content of external sites.