Has Browne solved the university funding squeeze?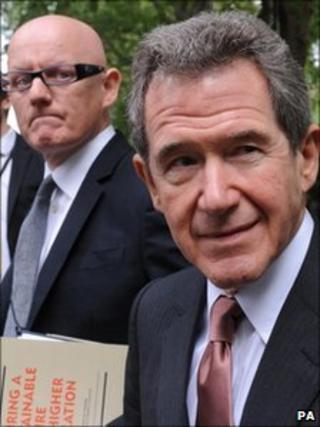 Lord Browne was tasked with solving one of the most difficult conundrums of our times.
That is, how to get more people into the university without over-burdening the tax-payer or the graduate.
By advancing a model which allows for huge reductions in the teaching grant for non-strategic subjects, he certainly alleviates a large amount of the Treasury's burden.
University of Central Lancashire (UCLan) vice-chancellor Malcolm McVicar says the report appears to call for the "almost total annihilation of the teaching grant for everything but medicine, some science and engineering".
According to Lord Browne's calculations, this saves the Treasury some £3.5bn.
And, by introducing a real rate of interest on student loans, it also reduces some of the price of the student support package.
Crippling debt?
But does pushing these costs towards the students, albeit through a reformed of loans system, shift the balance too far?
The National Union of Students says graduates will be left with crippling levels of debt.
But Lord Browne is insistent that only those who can afford to - by his reckoning those earning over the £21,000 mark - will pay back their university debts of nearly £39,000.
The question is whether students will risk getting to the point when they owe that much?
The University of Leicester, which has the most diverse student population of Britain's top 20 universities, carried out some research on the subject of who would be deterred.
Its director of corporate affairs, Richard Taylor, said: "We found that the vast majority of students would still go to university if fees were raised to £7,000.
"But at that level there would be a small but significant minority who would be deterred."
These were children from traditional working class families, he said: "The children of plumbers, unskilled workers and the unemployed."
The children of the top three social groups were not put off in such great numbers.
When it looked at its own student population it found that demand for places from the kind of people that tended to come to Leicester held up when fees rose to this level.
But he added that some of the detail within the Browne Review would mean that they would need to offer more enticements to keep up their numbers of poorer students.
"We are going to have to look at more scholarships and bursaries to ensure that students will be able to progress regardless of backgrounds," he added.
But he said when he looked at students' views at what he termed the "less prestigious universities" - mainly former polytechnics - the numbers were more worrying.
"Many institutions would not be able to charge £7,000 and may feel a lower fee may be the only way to maintain the number of students that would go to university," he said.
'Destabilising'
If they feel like that about fees of £7,000, what are they going to feel about the higher ones that more prestigious universities are expected to charge? Lord Browne's review models fees up to £12,000 a year.
Former NUS president Wes Streeting, who is now chief executive of the social mobility charity the Helena Kennedy Foundation, pointed out that the Russell Group had struggled with widening access despite a lot of efforts.
He said: "The risk is Lord Browne's report throws social mobility into reverse.
"I really worry that the future for higher education will be one in which the price of universities is the determining factor for students and consequently there will be a process of social sorting where the rich get the best and the poor get the rest."
'Stark choice'
UCLan's Dr McVicar said that although raising the repayment threshold was helpful, many students would still not have the confidence to borrow the amounts they need.
He added: "If students think they can't afford to go then universities will not be able to maintain their incomes streams and it could be very destabilising."
Not so for the top universities in the Russell Group who have been calling for fee rises so that they can compete with generously-funded universities in other countries.
Its director general Dr Wendy Piatt said: "Unless we ask graduates to make a bigger contribution, they - as well as society as a whole - will be short-changed. This is the stark choice the country has to wrestle with."
But she warned that the answer to the question of whether the Browne plan works would only come when the details of future spending cuts were revealed.
She said: "If it brings still more cuts to teaching and research budgets when the sector is already absorbing £1 billion of the previous government's cuts, today's proposals may still prove insufficient."
But for university lecturers implementing the review's findings would be a disaster for higher education.
University and College Union and general secretary Sally Hunt said: "How can we expect to raise standards even higher for students when we have less money, when courses and even whole universities will face closure and when many staff will face the sack if these il-conceived plans to privatise our universities are implemented."