School struggle's to protect services from cuts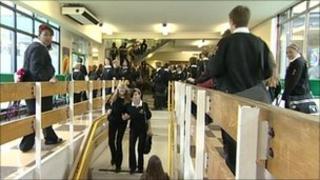 Bitterne Park School, Southampton, is at the heart of its community.
It opens at 0600, and closes after adult learning classes end at 2200. But long hours and wraparound education cost money.
The BBC has learned that ministers plan to claim in this week's comprehensive spending review that the schools' budget is protected.
However, the Department for Education's other spending is still expected to face cuts, which have been predicted to amount to 10 to 20%.
But institutions like Bitterne Park receive funding for some of their programmes from local authorities and grants for national programmes, and it remains unclear exactly what will be included in the protected schools budget.
Bitterne Park has already been feeling the squeeze from local authority cuts, and fears these will bite deeper in the wake of the spending review.
Local government funding has already been withdrawn from the school's breakfast club.
The Parent Teacher Association is currently funding it, but the money will not last for ever.
The school - rated "outstanding" by Ofsted - has already lost one dinner lady to save money and put in place a recruitment freeze on lunchtime staff.
Dolly Thorn runs a tight ship in the school canteen. She has had to expand the meals service to follow the demand for nutritious meals after the Jamie Oliver campaign.
"We're a very important part - as much as teachers," she said.
"If the children don't eat, they don't perform well."
"Every person in this kitchen is a frontline service," she adds.
Bitterne Park also spends around £30,000 a year on one-to-one teaching for pupils who struggle with maths and English.
Staff say the investment has paid dividends, with 92% of the children who take part making progress.
"It might seem a slight indulgence, but we see it as an absolutely vital element in making sure that every child is able to make the progress they need to," said deputy head teacher Simon Riding
But local government funding for the programme only lasts until April next year and further cuts could mean it has to go.
'Not enough space'
With rising pupil numbers the school was going to be rebuilt - until the government cut Labour's massive schools' rebuilding programme, saying it was inefficient and wasteful.
Assistant headteacher Liz Wylie said it was built in the 1950s for about 1,100 students, but 1,500 are now squeezed in every day.
"Over the last two years we've had to grow and grow - at break times in particular, there's just not enough space for all these students," she said.
"We won't get the buildings that we need, we'll just deal with what we've got."
Headteacher Susan Trigger said a budget cut of 10% would have a "huge impact".
Even if schools' core budgets, which come through local authorities, are protected, many schools benefit from other funding streams and grants for extra projects, which politicians may decide to axe.
For example, one source of funds, Becta, a body which helps schools adopt new technologies, has already had £50m taken from its budget to fund Education Secretary Michael Gove's "free schools" programme. It is also one of five education quangos being axed.
It is unlikely that politicians will want to make large numbers of teachers redundant or raise class sizes, which would be unpopular with the electorate.
But Ms Trigger said she might opt to cut class sizes rather than programmes such as revision clubs and one-to-one tuition, which she believes have helped raise attainment across the school.
"I'd want to protect some of these kinds of services - because for those individual students it gets them to where they should be. There is evidence that those extras have worked - the programme has been recognised as phenomenal," she says.
"I would start looking at some things like class sizes, because it's the quickest and easiest," she says. "But it is painful and I'm quite concerned what I'll have to start thinking about from next April."
And with the Spending Review due to be published next week, the school is waiting to hear from ministers about what they believe is critical for children's education, and what has become unaffordable luxury.