'More upheaval' for children of young mothers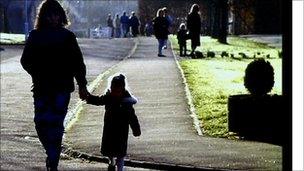 Children born to younger mothers are more likely to face family upheaval, a study suggests.
Researchers found that seven-year-olds with mothers aged under 30 were more than twice as likely to be brought up just by their mother than those with mothers over 40.
Overall, more than one in five children was living with only their mother.
Researchers are tracking the lives of 14,000 children born in the UK between 2000 and 2002.
The group is known as the Millennium Cohort.
In 2008-09, four in 10 children in the study with younger mums were being brought up just by their mother.
This compares with 15% of those born to mothers over 40, say researchers from the Institute of Education at London University.
The likelihood of children experiencing a significant family change, such as the arrival of a stepfather, follows a similar pattern.
This happened to 13% of those with mothers over 40 and 39% of those with mothers under 30.
Researcher Lisa Calderwood, of the Institute of Education's Centre for Longitudinal Studies, said: "Living apart from natural fathers can be associated with poverty and negative outcomes for children.
"As these experiences are particularly concentrated among children of young mothers these findings provide support for policies aimed at reducing teenage pregnancy.
"They also indicate that families with young parents may benefit from further targeted government support."
Nearly seven in 10 children in the study lived with both their natural parents, with just over half of these (55%) living with married natural parents.
The researchers found differences in family make-up linked to ethnic groups.
About nine in 10 Indian and Bangladeshi seven-year-olds were living with both natural parents who were, in almost all cases, married to each other, they said.
Black Caribbean children were the most likely to be living in a lone-parent family (50%) and were the least likely to have married natural parents (23%).
A separate analysis of the Millennium Cohort found almost all mothers of five to seven-year-olds wanted them to stay in education beyond the minimum school leaving age - currently 16.
And another study of the group found almost three-quarters of Pakistani and Bangladeshi children in the UK were being brought up in families living in poverty.
Their families were estimated to be living on less than 60% of the average national household income.
Academics at the Institute of Education found just over half of the black children (51%) in the Millennium Cohort were in such low-income families, compared with one in four white (26%) and Indian (25%) children.
Low income was strongly linked to parents being out of work.
A much higher proportion of children in lone-parent families (63%) were living below the poverty line than those with married (16%) or cohabiting (30%) parents.
Professor Heather Joshi, the study's director, said: "Despite government efforts to eradicate child poverty, almost three in 10 children are still in poor families at age seven.
"It's particularly disappointing that around one in five seven-year-olds is in severe poverty - on incomes below half the national average."
Related Internet Links
The BBC is not responsible for the content of external sites.