Tuition fees free market unfair, says Vince Cable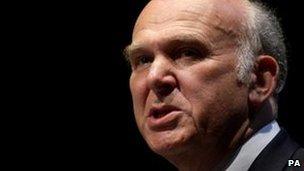 A free market in tuition fees in which top institutions could charge unlimited fees would not be desirable or fair, the business secretary has said.
Mr Cable said he was still considering a £7,000 fees cap and drawing up measures to make any future system more progressive.
He was keen to ensure a fair solution, he added.
Mr Cable was answering MPs' questions two days after an official review called for uncapped, variable fees.
His comments made clear that he was very far from accepting Lord Browne's full package of measures, despite his statement on Tuesday accepting its "general thrust".
The coalition government is split on the issue of how to fund higher education, with a number of Lib Dem MPs threatening to rebel over its response to the recommendations.
Mr Cable said: "We are looking at the proposals carefully and considering a tuition fee level of £7,000."
But it is not clear whether this would be a full cap or what has been termed a "soft cap" - where universities are penalised by the Treasury for going above that level.
Shadow business secretary John Denham questioned Mr Cable on the impact of allowing universities like Oxford and Cambridge to charge fees of £10,000 or £12,000, suggesting such high fees would effectively shut bright, poor students out.
Mr Cable responded, saying: "He rightly refers to the difficulties which would arise if certain... institutions were allowed to charge very large variable fees.
"That's why I made no commitment on Tuesday as to how we would deal with that problem we need to reflect further on it - he's quite right there's an issue of fairness and we are going to address that."
Mr Cable also effectively ruled out a "free market free for all", saying: "There has to be choice and there will be some competition between universities and that's welcome.
"That's very far short of a laissez-faire free market - we do not want that.
"There has to be protection for lower income students and for them when they graduate. We will build in these protections and ensure that there is a proper progressive scheme."
A full response to Lord Browne's recommendations had been expected at around the time of the Spending Review next week.
But the Department for Business, Innovation and Skills said Mr Cable's House of Commons statement on Tuesday was the government's response and that a full package of measures would be brought forward in due course.
Mr Cable has already told MPs he is open to suggestions from both inside and outside the House "over the next few weeks".
The changes will be brought forward in a Higher Education Bill to be published by the end of the year. They will affect students starting courses in 2012 at the earliest.
NUS president Aaron Porter said Lord Browne's proposals would put the UK's future at risk.
"The government must now rethink this review to ensure the fair and sustainable funding of students and universities that recognises their central importance to our economy," he added.