Schools 'could open in shifts' to save money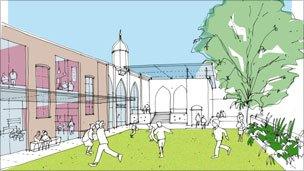 Schools could open in shifts to make the most of scarce resources at a time of austerity, a report suggests.
The British Council for School Environments suggests teachers and pupils share premises with businesses and other schools to bring in new money.
It also recommends head teachers set up shop in converted offices, industrial buildings and even shopping malls.
Small schools could open in two shifts, it adds.
BCSE chief executive Ty Goddard said shared use was part of the answer to the problem of school place shortages.
"It happens in New York where you get two schools occupying the same building and sharing the core resources of the space," he added.
"They have different identities and different curricula but they share the same building."
He also said schools could lease out office space to fledgling businesses to bring in extra funds.
And Mr Goddard called for a "freer-thinking" approach to the issue of a shortage of school places after the axing of England's £7.5bn school rebuilding programme.
He said: "We urgently need to provide hundreds of thousands of new pupil places and only truly innovative thinking will enable us to do this during an age of austerity."
He said it was crucial to inject some new creativity into the approach and think how schools could be accommodated in different types of buildings.
"We have got case studies of community buildings, churches and a small library that may make good school sites. It seems to be pretty sensible in lots of ways.
"The point that we are making is that people see every day buildings that are empty and going to waste."
The call comes after Education Secretary Michael Gove said he would be making space available for new academies in Department for Education buildings.
Mr Gove said his department had 100 buildings that could possibly be used but officials would not give any details of them.
But the National Union of Teachers said the proposals were a "nonsense from beginning to end".
General secretary Christine Blower said: "Schools are not businesses and do not have either the time or the budgets to become one.
"To use the excuse of difficult economic times to shunt schools into any spare bit of office space or empty churches they can find is just preposterous.
"I do wonder if anyone who contributed to this report has visited a large comprehensive school in recent times for them to imagine that facilities such as sports field, science laboratories or even sufficient toilets could be provided within these proposals."
Related Internet Links
The BBC is not responsible for the content of external sites.