University course fee increases 'could deter students'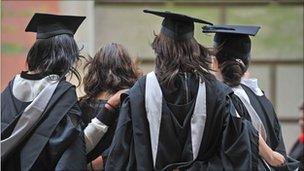 The increased cost of some university courses could deter students from studying their preferred subject, a think tank has warned.
The Institute for Public Policy Research said it could make courses such as law and medicine prohibitive.
Lord Browne's report this week proposed lifting the cap on fees in England, allowing charges up to £12,000 a year.
University body Universities UK said there were safeguards in place to avoid students being put off their course.
Under Lord Browne's proposals, top institutions could charge unlimited fees - his report sets out models for annual charges up to £12,000.
Experts at the IPPR have predicted significant long-term shifts in course popularity.
Mike Kenny from the institute said: "You may have students who think that the cost that some universities charge in medicine or law may be prohibitive, so they are not able to pursue their dream of becoming involved in that kind of profession.
"So it could well be that we see a change in the pattern of choices that students make."
No one is sure exactly which courses or universities will end up charging students the most.
But based on what foreign students currently pay, the most expensive subjects are pharmacy, engineering and business, along with medicine and law.
Lord Browne's review does include a suggestion that some priority courses could be subsidised by the government.
Nicola Dandridge, chief executive of Universities UK, disagreed with claims that students' subject choices could be affected.
She said: "I don't think they will be swayed to take a different course because of costs.
"Partly because of the protection that's built into the system, which means they will only repay if they have a certain income.
"Also because students will often choose what they genuinely want to do - because what university's all about is skills for life, it's not skills for a job."
Related Internet Links
The BBC is not responsible for the content of external sites.