College offers £5,000 for failing exam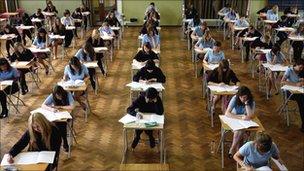 A Lancashire college is so confident that its students will pass their A-levels that it is offering £5,000 for anyone who fails.
Blackburn College says it wants to send a message to parents and young people that they will succeed if they study A-levels there.
The cash promise will depend on pupils attending lessons and keeping up with coursework.
The college says it does not envisage paying out to any pupils.
Blackburn College, which has about 15,000 students, says it wants to use the £5,000 offer as a way to boost the confidence of anyone thinking about starting an A-level course.
A spokeswoman said it was a way of telling potential students that if they work hard they will be able to get A-levels, which will help them get a job or university place.
If there are payments, the college says it will not come from taxpayers but from its commercial operations.
"Our track record of ensuring exam success for committed students is so successful that we are prepared to make this pledge," says the college's principal, Ian Clinton.
"We are happy to make a deal with our students. If you back us, trust us and work hard then we will do everything in our power to help you get you the results you deserve."
This year the pass rate of pupils getting at least an E grade was 98.9%.
There are also conditions so that the offer only applies to "diligent" pupils who are taking three A-levels - including attending 95% of lessons, meeting targets and handing in all work on time.
It is the latest example of cash or gift incentives being used in schools - either to encourage good behaviour or to discourage bad.
Last week, Marlowe Academy in Thanet said it would offer a £150 reward to 16-year-old pupils who met the school's attendance target and passed a minimum of five exams.
Under the scheme, the children can build up points on a loyalty card to spend later on goods in a catalogue.
Related Internet Links
The BBC is not responsible for the content of external sites.