Education allowances face 'reform' in spending plan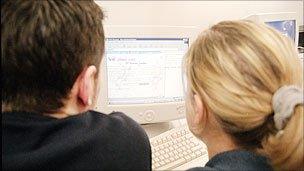 Education maintenance allowances, received by about 600,000 teenagers in English sixth forms and colleges, face "reform" in the Spending Review.
Education Secretary Michael Gove indicated a shake-up as he gave details of how a pupil premium for poorer pupils would be funded.
Shadow education secretary Andy Burnham warned that extra school spending could be "robbing Peter to pay Paul".
Mr Gove insisted that school spending would "rise in real terms".
Mr Burnham called on the government to give more details of the funding for the pupil premium, announced last week as a £7bn package over four years.
Labour's new education spokesman told MPs that the pupil premium announcement had "fuelled rumours" of cuts elsewhere - in particular the education maintenance allowances (EMA) and Sure Start services for young children and their families.
Mr Gove indicated that both the allowances and Sure Start would continue - and that schools spending would be protected.
"We have ensured that the funding is there in order to guarantee that more people will participate after the age of 16 and guarantee that a network of Sure Start centres are there for every child who needs them," he told MPs.
But Mr Gove, asked whether the EMA allowances would continue as at present, indicated that there would be changes.
"We will be reforming the way in which money is available to those over the age of 16 in order to ensure that we can meet our shared goal of maximising participation," said Mr Gove.
The allowances are available across the UK, but Mr Gove's funding plans for education will relate to England.
At present, pupils in England between the ages of 16 and 18 can receive a weekly allowance of between £10 and £30 per week to help with items such as transport or books.
Young people living in households with an income less than £20,817 can receive £30 per week - and those in household earning up to £30,810 can receive £10 per week.
The allowances were received by 579,000 families in 2008-09 - with the current year's allowances costing the government £564m.
Further education colleges have been concerned that the allowances are going to be stopped or restricted - as they say an estimated two-thirds of recipients are students in FE colleges.
The EMA was designed as an incentive for youngsters from lower-income families to stay in education, rather than taking up low-paid jobs.
Colleges have said these grants have been the difference between youngsters staying in education or dropping out.
The previous government came under pressure after long delays to the delivery of the allowances.
Facing questions about the future of Sure Start, Mr Gove appeared to play down concerns about the loss of services and centres. There had been claims that access to Sure Start would be stopped for better-off families.
"We want to ensure that the funding is there to maintain the current network of phase one, phase two and phase three centres," he told MPs.
This third phase of Sure Start would complete the national roll-out of 3,500 children's centres.
Mr Gove was also pressed for details of how the pupil premium might be allocated.
He promised that it would be available to all disadvantaged pupils, including in rural areas, but indicated that the way of defining disadvantage had still not been decided.
Related Internet Links
The BBC is not responsible for the content of external sites.