Frontline schools' staff facing job losses. NUT says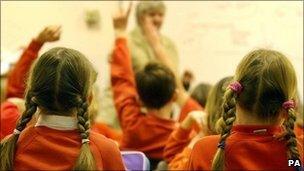 Front-line school staff already face job cuts despite claims that England's schools' budgets will be protected in this week's spending review, a teaching union has said.
NUT head Christine Blower said these included specialised support staff helping pupils with special needs.
She said it was "disingenuous" to say schools' budgets were being protected when posts were already under threat.
The Department for Education said it could not say what this budget covered.
Schools get a dedicated grant of about £29bn based on per-pupil funding. But England's schools spend much more than this.
Around a quarter of the money they get from government comes from other streams, including special programmes and schemes such as one-to-one tuition.
And it varies from school to school depending on the sorts of needs they have.
In an interview with the BBC News website, Ms Blower said: "We know of jobs at risk in behaviour support teams, specialised support teams and with people who give pupils with dyslexia support.
"These are absolutely dead straight front-line workers - not back office workers."
"If these are already being cut ahead of the comprehensive spending review, it is not unreasonable for people to claim that actual school budgets are not being protected.
She added: "These are people - the focus of whose jobs are in schools and in the classroom. They are not spending a lot of time in offices away from children."
The loss of behaviour staff would lead to more children being excluded from school, she added.
"There is an issue about how well schools can manage without those vital schools services particularly because we know some of these jobs are already at risk," Ms Blower said.
The NUT recently surveyed members employed directly by local education authorities and found that some 60% worked in areas where redundancies were proposed.
A third said redundancies had already been implemented. In 81% of these cases, the proposed spending cuts were the reason for the job losses, the survey suggested.
Ms Blower also warned against local authorities reducing their library services, adding that this would hit the poorest hardest.
"It's not going to matter so much to families who can afford to pop down to Waterstones at the weekend," she said.
Related Internet Links
The BBC is not responsible for the content of external sites.