Tory conference speech teacher leaves school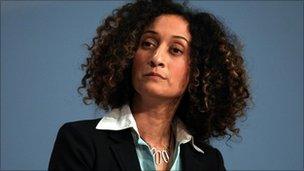 Teacher Katherine Birbalsingh, who made a speech to the Conservative conference criticising school standards, has left the school where she was working.
The circumstances of her departure from London's Anglican-run St Michael and All Angels Academy remain unclear.
In her controversial speech she said the education system was "broken".
The school had asked her to work at home over concerns that her comments were "insulting" to colleagues and about her use of photographs of pupils.
Ms Birbalsingh told the BBC on Monday she was now seeking other employment, but had no regrets about speaking out.
'Keeps poor children poor'
The French teacher, who was also serving as deputy head, said she was not able to comment on how and why her work at the school had ceased.
Southwark Diocese said she was "leaving the academy's employment" following discussions between her and the school, but gave no further details.
During her impassioned speech at the Conservative conference, Ms Birbalsingh said that she had converted from being a "serious leftie" because of her experience of the education system.
She was given a standing ovation, after explaining how her experience had convinced her that the system was broken because it "keeps poor children poor".
She spoke, to laughter from the floor, about a child who claimed a friend was "born with anger management" and showed a photo of the child in question.
She said this was an example of a "culture of excuses, of low standards and expecting the very least form our poorest and most disadvantaged".
Even the children know standards have been "dumbed down" she said, saying pupils asked for more recent past exam papers because they knew them to be easier.
She spoke out against league tables, saying the "ordinary child" was "lost in a sea of bureaucracy handed down by well-meaning politicians".
She also said accusations of racism discouraged teachers from disciplining children from ethnic minorities.
Ms Birbalsingh said on Monday said she had had "no idea" that she was likely to end up in the media spotlight.
"I just got up to what I thought was going to be a small crowd of people to give a speech," she said.
"All of this madness happened, which I wasn't expecting at all," she said.
She said she had been criticising the education system, rather than fellow teachers, whom she said she had "utmost respect for" and who do "an incredible job in difficult circumstances".
"People criticise me for criticising teachers, but I am a teacher! I'm part of the problem," she said.
Ms Birbalsingh is the author of a blog about her experiences, which is to be published as a book next year.
When she was sent home for the remainder of the week after the conference, Southwark Diocese said it was concerned that "the position of the academy should not be misrepresented".
"Generalisations about teachers and schools can be seen as insulting to many teachers who have worked hard to make a difference to the lives of the young people in their care."
It also said the Diocese was "concerned" by "her use of pictures of children from our school and made reference to them by name".
Ms Birbalsingh has said she had obtained consent from the school and parents for the use of the pictures, but it is not clear how much detail she had given of how and where they would used.
Christine Blower of the National Union of Teachers, said teachers should be free to express their views.
"No teacher will want to damage relationships with the school community within which they work, but as the experts on educational issues, teachers must be allowed to speak out about the impact of government policies and give their views on the education system," she said.
Related Internet Links
The BBC is not responsible for the content of external sites.