Children in care need better support, guidelines say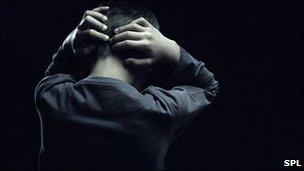 Teachers and healthcare and social workers must work together better to improve the lives of children in care, new guidelines say.
The recommendations were developed by the National Institute for Health and Clinical Excellence (NICE) and Social Care Institute for Excellence (SCIE).
They called on workers in children's services to share information better.
More support is needed for children in care from ethnic minority and asylum-seeking backgrounds, they also said.
The guidelines, were produced at the request of the Department for Health after wide-ranging consultations
NICE and SCIE said that many children and young people in care did not have positive experiences and were unable to stay in the same place with the same carers or attend the same school for extended periods of time.
Children in care have worse physical and mental health than their peers and do less well at school - with only 1% going to university, compared with 50% of all young people, the organisations point out.
Ensuring decisions on changing placements are based on the needs of the child
Designing services to cater better for children with specific needs, including those from black and minority ethnic backgrounds, unaccompanied asylum seekers and those with disabilities
Keeping accurate and up-to-date health information on children and stopping this from being "lost in the system"
Providing practical support and encouragement for young people leaving care before and during further or higher education, including information about bursaries and help with accommodation
Use "life story work", where photos and letters from a child's birth parents are gathered, to improve the child's sense of identity
Work to keep siblings - including adopted siblings and step-siblings -together
Dennis Simpson, chairman of the independent committee that developed the guidance, wrote in the report that nationally the quality of services for children in care is "uneven".
Their transition to adulthood can often be "traumatic", he said, and "without access to services to support this transition young people can end up unemployed, homeless or in custody, experiencing a downward spiral of rejection".
He said children and young people in care should be a priority, even when difficult decisions were being made about budgets.
Colin Thompson, of the charity Voice and also a member of the committee, said his own personal experience was fairly typical of the stereotypical child in care: "Loads of social workers, failed placements and residential care homes - I was moved around the country and had numerous schools."
He added: "This guidance highlights how important it is that every child is listened to and their needs and feelings taken into account when considering moving them from one placement to another."
Christine Blower, general secretary of the National Union of Teachers, welcomed a specific section of guidance for teachers in supporting looked-after children.
"All too often teachers are left feeling they have insufficient knowledge or support to cope with situations occurring in their classrooms," she said.
Related Internet Links
The BBC is not responsible for the content of external sites.