Millions of school days lost to family holidays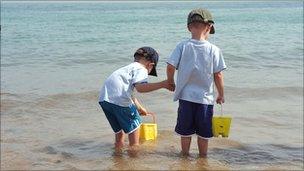 Nearly four million school days in England were missed last spring and autumn because parents took children out of school to go on holiday.
Department for Education figures show 0.51% of half-days were missed in the autumn term of 2009 and spring term of 2010 because of family holidays.
Of these absences, 76% were approved and the rest were unauthorised.
The figures may reignite concerns that parents are taking advantage of cheap term-time family holiday deals.
The Department for Education calculates that some 3.9 million full school days were missed in all, based on the premise that each pupil in England should attend school for 380 half-days a year.
The issue has is not new and remains a problem government ministers and local authorities are keen to address.
In the autumn term of 2008, 0.73% of half-days were lost to authorised and unauthorised school holidays and 0.45% were lost in the spring term of 2009.
The figures also show the overall truancy rate has fallen slightly to 1.01% of half days missed, from 1.03% for the same two terms the year before.
But the number of primary school pupils in England missing school without permission in the autumn term of 2009 and spring term of 2010 has risen slightly.
In total, 0.68% of half days were skipped by primary pupils, up from 0.65% over the same period.
However, the number of pupils in secondary schools skipping class has fallen.
Here the unauthorised absence rate fell to 1.4% from 1.47% the year before.
The figures also show the most common reason given for absence was illness, not including medical or dental appointments.
Schools minister Nick Gibb welcomed the small drop in overall absence rates, but said the level of absenteeism in schools was still too high.
"It is crucial that children are not missing out on valuable lessons that could leave them vulnerable to falling behind," he said.
"The government is committed to tackling the underlying causes of absenteeism, raising academic standards and ensuring every child can meet their potential, regardless of their background."
Related Internet Links
The BBC is not responsible for the content of external sites.