Special needs more likely for boys, study finds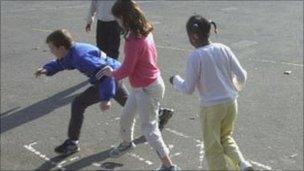 Almost one in four primary school boys in England has special educational needs (SEN), a government report finds.
More than 41,000 primary school boys (2%) have a statement of needs and 489,250 (23.4%) have unstatemented needs.
This compares to 15,600 SEN girls (0.8%) with statements and 269,890 girls (13.5%) without a statement.
Last month Ofsted said thousands of pupils were wrongly labelled as having special educational needs.
All these pupils required, inspectors said, was better teaching and support.
The Ofsted report found as many as half of all pupils identified for School Action, the lowest SEN category, would not be identified as having these needs if schools focused on improving teaching and learning.
The latest study, published by the Department for Education (DfE), examined the numbers and characteristics of children with SEN.
The findings show the number of pupils with SEN in England increased from around 1.53 million (19%) pupils in 2006 to approximately 1.69 million (21%) pupils in 2010.
Boys were two and a half times more likely than girls to have statements at primary school, the report said.
And at secondary school, they were nearly three times more likely to have statements compared to girls.
The report found that boys and girls were likely to have different types of SEN.
Boys with statemented SEN were more than twice as likely to have behavioural, emotional and social difficulties or autism than girls.
In total, 26,170 boys (17.2%) with SEN statements had behavioural, emotional and social difficulties compared with 3,590 girls (6.2%).
Girls with SEN statements were more than twice as likely to have profound or multiple learning difficulties or hearing problems compared with boys.
Children's minister Sarah Teather said: "Pupils with SEN are not getting the support they need to succeed and are falling behind as soon as they start school.
"It is not right that only 5% of young people with statements of SEN go on to higher education.
"We must change the system so that having SEN or a disability does not predetermine a child's future."
Related Internet Links
The BBC is not responsible for the content of external sites.