What will cuts mean for education?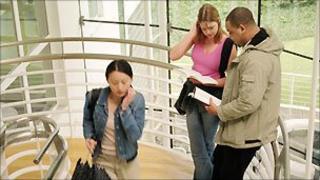 It's been a tale of two budgets.
The Spending Review has seen the schools budget in England emerging relatively unscathed from the chancellor's axe.
Some teachers' unions delivered a muted sigh of relief. There will be winners and losers among individual schools and teaching posts could still be lost - but the overall budget has avoided being chopped.
In contrast, universities face a much more uncertain future.
The teaching budget is going to be cut by 40% and as some subjects, such as science and technology, are protected it's likely to mean even deeper cuts elsewhere.
Arts and humanities courses could end up with more or less all their state funding for teaching withdrawn.
The University Alliance warned against "sleepwalking towards a privatised university sector".
'No Plan B'
The Russell Group of leading universities says it means there is now no "Plan B" as an alternative to Lord Browne's recommendation to push up fees. They need the extra money just to stand still.
And the Million+ group of new universities says it shows the decision on raising fees has effectively already been taken.
Instead of Lord Browne's review adding to university budgets, it now seems that higher fees will be used to replace the money being taken away by the government.
Such a shift in funding has been described by Universities UK as the biggest change in higher education for more than 40 years.
"Ministers will have to answer to students if their increased contributions do not translate into better funded universities," says the 1994 Group of research-intensive universities.
The amount cut from the teaching budget - £2.9bn - is less than had been predicted, which could mean the government is leaving itself some negotiating room when setting the level of tuition fees.
Thorny details
School funding received a warmer welcome, with an overall protection of the budget - but there are thorny details still to be untangled.
Understanding the implication of the new funding arrangements was like trying to "knit fog", said the NASUWT teachers' union.
Education Secretary Michael Gove said he was "protecting the frontline, handing power to teachers and introducing a pupil premium for the poorest" - but the "size of the deficit means we have had to make tough decisions".
A multiple number of income streams for schools will now be merged. There are funds for specialist schools, academies, extended schools, ethnic minority pupils, and one-to-one tuition, which will now all be wrapped in with the core school funding.
This combined budget will then have to be distributed - with the added factor of a pupil premium for disadvantaged children.
The local impact on individual schools is going to be difficult to predict.
Schools which are currently receiving a number of these funding streams could find themselves losing out - and facing tough decisions about cuts. There are no guarantees about job losses.
'Complete con'
There might be schools which lose their specialist funding and gain little from the pupil premium. The geography and demography of individual schools could have unexpected outcomes for their budgets.
Labour's education spokesman Andy Burnham described the pupil premium as a "complete con" - and warned that there will be "huge winners and losers" in the allocation of funding.
Schools will also have to face the knock-on effect of cuts to local government spending, which could mean reductions in support services and transport.
For the further education sector, the Association of Colleges said colleges would be "facing further cuts of around 25%. There is no escaping the fact that the next few years will be extremely difficult".
Students in further education colleges will be particularly affected by the removal of the education maintenance allowance, which has given means-tested payments of up to £30 per week to help teenagers stay in education.
The political thunder and the local storms of this major re-shaping of funding are going to rumble on through the winter and beyond.