Rise in pupils scoring five good passes at GCSE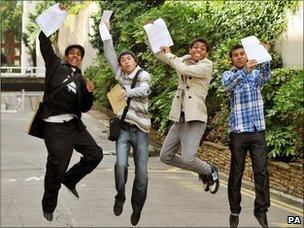 The proportion of pupils in England scoring five good GCSE passes including maths and English has risen, provisional results show.
This year, 53% of pupils attained the benchmark level - between A* and C - compared with 49.7% last year.
However, at A-level, the percentage of students gaining at least two passes fell, from 95.1% to 93.6%.
The schools minister warned that nearly a quarter of a million pupils left school without a range of good GCSEs.
This year, figures including iGCSE results were also provided.
With those included, 53.1% of students achieved 5 or more GCSE passes from A* to C including maths and English.
The highest scoring local authority in terms of good GCSE passes including maths and English was Kensington and Chelsea, with 70.9%, followed by Sutton, with 70.2, and Redbridge with 68.7%.
The lowest was Knowsley in the North West, with 37.8%, followed by Barnsley, with 39.9%.
"We need to narrow this historic and entrenched attainment gap, especially between those from the poorest and wealthiest backgrounds," said Schools Minister Nick Gibb.
"It is a waste of talent that children from disadvantaged backgrounds are continuing to miss out on universities and jobs just because of the accidents of their birth," he said.
Mr Gibb praised "exceptional progress" made by academies, whose five good GCSE pass rates, including maths and English, rose 7.4 percentage points on last year.
Academies were established by Labour targeting low-performing schools in deprived areas, but the Conservatives want to expand the programme to all schools, beginning with those classed as "outstanding" by Ofsted.
The figures for A-level results showed that one in eight (12.4%) 16-18-year-olds who took A-levels was awarded at least three A* or A grades.
But this was down very slightly from 12.7% last year.
Private school students scored substantially better than state school pupils on this measure, with nearly a third (31.4%) of private school students achieving three or more A* or A grades, compared with one in 10 (10.6%) state school pupils.
Related Internet Links
The BBC is not responsible for the content of external sites.