Youth service cuts 'could lead to social unrest'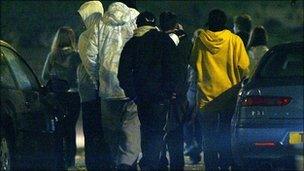 Cuts to youth services could lead to France-style social unrest happening on England's streets, a charity head has warned.
Head of the National Children's Bureau Sir Paul Ennals said youth clubs were likely to be hit hard by spending cuts.
Along with unemployment and college cuts, it could mean young people become "progressively disengaged from their own communities", he said.
The Department for Education said schools were its biggest priority.
In this week's Spending Review, Chancellor George Osborne said the schools budget was being protected but that 12% savings would have to be found in other areas of the DfE spending.
Local councils, which fund youth services, are also faced with cuts of about 25%.
NCB chief executive Sir Paul said youth services were already being cut ahead of the Spending Review because they are non-statutory.
And he predicted there would be a "significant decline" in the number of youth clubs and other youth services as councils grappled with the cuts.
"Mainstream youth services seem at enormous risk - and this simply confirms the actions many local authorities have already been taking.
"At a time of rapidly increasing youth unemployment, the reductions in educational maintenance allowances, coupled with cuts to further education funding, paint a worrying picture for young people's employability and their engagement in their communities."
He said youth services were key tools for preventing young people from slipping into crime and drugs, and cutting them "stored up trouble for the future".
He added: "My concern is that young people may become progressively disengaged from their local community in the way that we are already seeing in France.
"Much of the street activity that's been happening in France has been driven by young people who are alienated from their community."
Councillor Rita Krishna, a member of the Children and Young People's board of the Local Government Association, said there was a risk that the long-term gains of youth work were lost to short-term cuts.
She said the obsession with getting rid of the deficit within four years was building up more problems for the future.
She added: "There are people's whose whole lives are changed by youth work. I am worrying about the potential human waste where people don't have the kind of enablement that youth work can give them."
She also raised concerns about the MyPlace scheme, which funds youth clubs and other facilities designed by and for young people, which has been frozen by the government.
She said councils throughout England were waiting to here if their bids for youth club building schemes were being accepted or ditched.
A Department for Education spokesman said it was introducing a £7bn Fairness Fund to support the most disadvantaged children and young people from two to 20-years-old.
"The fairest thing the government can do for young people is to ensure they get a good education, which is why we have protected school funding.
"Ministers have also ensured that there is funding to guarantee more young people stay on in school, restating their commitment to raising the participation age to 18 by 2015.
"This will give young people the best start to their adulthood and will prepare them for employment and higher education."
Related Internet Links
The BBC is not responsible for the content of external sites.