Humanities to lose English universities teaching grant
By Hannah Richardson
BBC News education reporter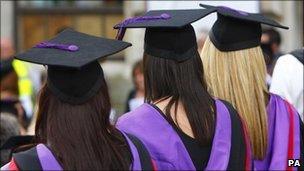 Teaching grants for degree courses in arts, humanities and social sciences at England's universities are likely to be phased out under government plans.
Giving evidence to MPs, Universities Minister David Willetts suggested these courses would be funded wholly via tuition fees in future.
But he said the greater share of cuts would come after fees went up in 2012.
Under the Browne Review, tuition fees replace teaching grants in all but science and maths subjects.
Lord Browne's review suggested the cap on fees should be lifted and students should be charged unlimited fees.
But this has been moderated in recent days with ministers suggesting there would be some sort of a cap on fees.
Chancellor George Osborne said the higher education budget was to be cut by 40% when he set out his spending review plans last week. This has been widely misreported as a 40% cut to teaching budgets alone.
But Mr Willetts suggested cuts to teaching budgets overall would be larger than this with some protection going to science, engineering, technology and maths subjects.
Giving evidence to the Commons business committee, Mr Willetts said Lord Browne's proposals envisaged most of the teaching funding "going in a different way - going via the student" by means of a graduate contribution.
Under this model, which he endorsed, he said "the teaching grant becomes a much less significant source of resource for universities."
And he confirmed that, under Lord Browne's proposals, the teaching grant for band C and D subjects - arts, social sciences and humanities - would be all but wiped out.
He added: "The teaching grant that you certainly need is the teaching grant for the extra costs of the Band A and B subjects - laboratory based subjects we would need a teaching grant to cover that extra."
Pressed about the level and speed of teaching grant budget cuts, Mr Willetts said the details were still being worked out.
"On that model there is a big reduction in the teaching grant - the exact size of it will depend on the detailed decisions we take," he said.
And he suggested there may be some extra protection for strategically sensitive subjects such as modern languages.
But he would not guarantee that there would not be closures.
He said: "It's not possible to give a guarantee that all departments will carry on. We are looking for savings that will start in 2012."
Mr Willetts said the final figures would be set out to universities in the usual way in the grant letter to England's higher education funding body, Hefce, before Christmas.
General secretary of the University and College Union Sally Hunt said cuts of this magnitude would lead to courses and whole universities closing.
She said: "The whole landscape of higher education in this country would change. What a university is and what its purpose is would be completely different.
"We need stable funding and recognition from the government that investment in education is an investment in our economic future."
A spokesman for Universities UK said it was concerned at the proposed withdrawal of public funding for teaching, and in particular by the suggestion that arts and humanities, and social sciences subjects are not considered to be priority areas for public investment."
He added that graduates in these subjects made a substantial contribution to the economy and assuring provision in these areas was strongly in the national interest.
"The arts and humanities are crucial in supporting the UK's world-leading creative industries sector.
"The creative industries account for £16.6bn in exports and contribute almost £60bn to the economy.
"Even in these difficult economic times, this sector is set to grow at more than double the rate of the rest of the economy and at a much faster rate than our international competitors."
Related Internet Links
The BBC is not responsible for the content of external sites.