Scrap GCSE targets - exams chief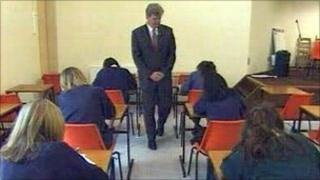 Official targets on the number of good GCSEs teenagers should get should be scrapped, the head of England's exams watchdog has said.
Isabel Nisbet, chief executive of Ofqual, also says the current league tables are too "simplistic".
Schools are measured on the proportion of pupils who achieve five GCSEs at grade C or higher, including maths and English.
The government has said it wants to overhaul the league tables.
The Education Secretary Michael Gove thinks parents should be given more information.
Details of changes are expected to be included in a White Paper before Christmas.
Asked what she would do if she were education secretary for a day, Ms Nisbet told a conference last week: "I would get rid of the targets related to the number of passes at grade C at GCSE."
At the Cambridge Assessment conference, she questioned the format of league tables: "The question is, is it simplistic to measure a very small number of indicators, sometimes drawing false conclusions? I think the answer is it probably is."
English Baccalaureate
Ms Nisbet, who is leaving Ofqual next year, said parents should be given more information about schools, and that most people understood there were different schools serving different communities.
Her comments were first reported in the Times Educational Supplement (Tes).
Mr Gove has said he would like to see an "English Baccalaureate" - where pupils would study five GCSEs including English, maths, a science, a language and a humanity such as geography, history, art or music.
Government figures published recently showed that in some parts of England, three-quarters of pupils were not studying history beyond the age of 14.
In some areas, almost half of all pupils were entered for GCSE history last summer, while in others, fewer than one in five were, a parliamentary answer revealed.