Top graduate teacher scheme 'boosts results'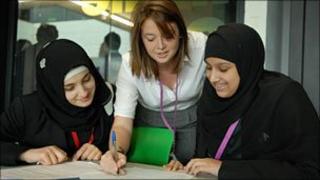 Schools that employ high-flying graduate teachers through a government-backed educational charity see improved exam results, research has suggested.
A study showed schools with Teach First teachers had seen pupils boost their grades by an average of a third of a GCSE in every subject they study.
Researchers also found new Teach First teachers were at least as good as their more experienced colleagues.
The scheme is funded by schools, sponsors and the government.
The findings are particularly interesting because the Teach First scheme is one of the few projects into which the coalition government has invested more since coming into office.
Improvements
Teach First trains graduates who obtain a 2:1 or higher at degree level - who may not normally consider a career in teaching - and places them in schools in deprived areas.
Ministers have mooted plans to require all teachers to have a 2:2 at degree level.
Researchers from Manchester University were commissioned by the charity to look at how well the programme was doing and how it could be improved.
They analysed data and conducted interviews in 87 Teach First schools and 87 comparable secondary schools, and with 848 teachers across England.
They found a significant correlation between participation in Teach First and improved pupil achievement, one to two years after the teachers start at the school.
Researchers used a complicated points system to measure this and concluded the average improvement equated to a third of a GCSE per pupil per subject.
They added that the more Teach First teachers in a school, the greater the improvements.
'Dedicated leaders'
But the impact of the programme is limited by the relatively small number of teachers the charity recruits and trains.
Since 2003 there have been more than 2,000 Teach First teachers placed in schools in challenging circumstances.
This compares to the 37,000 that England's official recruitment body, the Training and Development Agency for Schools (TDA), recruits into teacher training each year.
However, the charity is hoping to expand from the 552 teachers it recruited this year to 1,140 per year by 2013.
Teach First chief executive Brett Wigdortz said he commissioned the research to discover what his charity was doing well and how it could improve.
"We are committed to continually improving our programme to ensure our teachers are equipped to transform the life chances of pupils affected by educational disadvantage.
"Teach First's belief is that with a dedicated and focused classroom leader, all pupils can realise academic success."
Schools minister Nick Gibb said Teach First did an excellent job bringing academic highfliers with real leadership potential into teaching and that he was committed to expanding it.
"It is teachers and heads who are the most important people in driving school improvement and, as this research shows, Teach First teachers are producing impressive results."
A TDA spokesman said it shared the same aims as the charity, adding: "Getting the best quality teachers into the classroom is what matters most, and 92% of those people who started training in 2008/09 had a 2:2 or better UK degree."
BBC News website readers have been sending their reaction to this story. Here is a selection of their comments:
How much will they need to raise the pay of the new Teach First candidates to keep these excellent graduates interested in a very demanding job? They will have a substantial burden of debt to shift in the near future and other professions are so much better paid. Richard, Kent
This research appears to show that conventional teacher training may have a negative effect on teaching ability. Not surprising at all. Forty years ago when I was at school many of the teachers had no training at all, yet standards were much higher then. Dave, St Neots
I cannot help but feel that the pupils were disadvantaged because they did not have a teacher or there was a lack of continuity with a teacher. With a Teach First teacher pupils get a teacher and that is the main reason there are measurable improvements in attainment. It's not that Teach First teachers are necessarily better than other new teachers or experienced teachers. Steve, Aberdeen
I am a former Teach First teacher and think this research helps to show how many teachers in schools where Teach First participants are placed are working together to help boost results. However, addressing educational disadvantage is still a national challenge. It will be interesting to see how the new "free schools" that the government is also promoting will address educational disadvantage as well. Peter, Loughborough
As a graduate DESPERATE to teach and finding it very difficult to get a look-in, I find these incentives extremely annoying. They do look for graduates with a higher-graded degree than me but if they didn't originally consider teaching what makes them a better candidate than me? Teaching is less to do with the degree grade and more to do with personality and teaching ability. If the government focused more on those who want to teach for teaching's sake instead of for financial benefit then grades would shoot up even more. Sarah, Manchester