University vice chancellors argue over student fee rise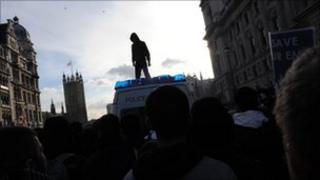 Vice-chancellors are warning of the devastating impact on England's universities if politicians fail to agree on plans to raise tuition fees.
Universities UK head Professor Steve Smith says without higher fees student places will have to be cut because teaching grants are being axed.
But some university leaders say the sector should oppose higher fees.
Baroness Blackstone, the head of Greenwich University, says a trebling of fees will deter poorer students.
The government is to hold a vote on the issue before Christmas.
At a debate on higher education funding in central London later, Professor Smith said: "The economic environment has led to an unpalatable choice between increasing the graduate contribution or cutting student numbers.
"Cutting student numbers would do more harm to social mobility than an increased graduate contribution with a progressive repayment mechanism, and more maintenance support for students from low-income backgrounds."
Baroness Blackstone, a former Labour education minister, says some vice chancellors disagree with University UK's position and think it should oppose the government's plans.
She is one of nine university vice chancellors who signed a letter to the Guardian calling for MPs to vote against the government's plans.
Think again
Ministers want to allow universities in England to raise tuition fees to a maximum of £9,000 a year from the current £3,290. Universities in Wales and Northern Ireland are likely to follow.
But graduates would not start repaying the loans covering these fees until they earned at least £21,000 a year.
At the same time, ministers plan to cut university teaching grants for all except maths and science subjects.
Baroness Blackstone told the Today programme: "It's perfectly possible to push the government to think again about this.
"I have said all along that this was a bad idea, that if we went down this road we would end up with a huge reduction in [teaching] grant and that is exactly what has happened."
But Professor Smith, the vice chancellor of Exeter University, told Today: "No vice chancellor likes the thought of a 76% reduction in the funding of teaching at universities. We have spoken out against that repeatedly.
"The problem we have is that we think there is no alternative plan, or plan B."
Baroness Blackstone says the alternative is for tax-payers to pay more - for there to be a graduate tax - and a small fee rise.
"To treble fees will have the most appalling adverse effect on access to university. Many young people that are not used to taking on debts of this kind are going to decide they are not going into higher education," she said.
Professor Smith says the vast majority of vice chancellors think it is best to back the government's plans - because there is no alternative plan.
"All of us might have individual views that maybe taxation is the way to pay for higher education, but the Universities UK board without dissent has taken the view that we have to get the government policy through," he said.
The National Union of Students has attacked UUK's approach.
President Aaron Porter said: "Instead of seeking to extract yet more money from the pockets of students and their families, vice chancellors should have spent valuable time defending a higher education system which is being sent to the dogs.
"It was foolhardy in the extreme for any vice chancellors to believe their incessant lobbying for higher fees would do anything other than ensure swingeing public funding cuts that would remove 80% of the university teaching budget."
Lib Dem deal
Any rise in fees must be supported by a vote in both the Lords and the Commons.
Liberal Democrat MPs, faced with a moral dilemma over whether to honour their pre-election pledges to oppose a fee rise or abstain in a vote, in line with the coalition deal, are discussing a possible settlement.
BBC political correspondent Iain Watson says the Lib Dem parliamentary party is discussing a possible deal where Lib Dem government ministers would agree to abstain on the fee vote - in return for back benchers being persuaded to abstain.
At the higher education debate on Thursday, Prof Smith also called for the government to say which subjects it planned to subsidise.
The Universities Minister David Willetts is meeting vice chancellors there - and is being asked to clarify the government's plans for student numbers and which courses will be prioritised for teaching grant funding.
Ministers are planning to phase out teaching grants from most arts and humanities subjects - with the expectation that they should be funded by student tuition fees - but few details have been given.
The government has said it will publish a higher education White Paper this winter.
Professor Smith says universities need to know the details of their funding soon because they publish their prospectuses in the spring.
"We need to know what the government is planning for student numbers as soon as possible," he said.
"Many students were unable to get a place at university this summer and we obviously want to avoid this happening again."
On Wednesday, students and pupils across the UK protested against fees and cuts to university budgets and the Educational Maintenance Allowance.
Police said 17 people were injured, including two officers, as protesters were contained on Whitehall.
Students at eight UK universities staged sit-in protests overnight.
And on Thursday morning, students were demonstrating in lecture theatres and other sites at Edinburgh, UCL, Oxford, Cardiff, SOAS, Newcastle, Manchester, Plymouth and Essex.