What makes good teaching?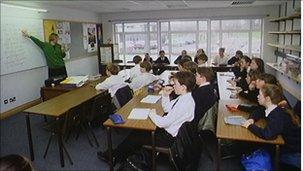 "It's the teacher, stupid!"
To rephrase President Clinton's election message about the economy, that seems to be the key message from the coalition government's White Paper.
As such, Michael Gove's blueprint for raising standards in schools draws heavily on a report from someone who was, ironically, an education advisor to the Labour government.
In September 2007 Michael Barber, by then at McKinsey & Company, published a study of the world's best school systems.
It concluded that while high-performing systems such as Finland, Japan, Singapore and Korea had very different approaches to the curriculum, teaching methods and school structures, they all made the quality of teaching their top priority.
So, as Barber concluded, the top two priorities for raising school standards are: getting the right people to become teachers and developing them into effective instructors.
Others agree on the importance of teacher quality. Dylan Wiliam, Emeritus Professor at the Institute of Education, cites research that shows the dramatic impact different teachers have on pupil progress.
It shows that if you take a group of 50 teachers, then pupils taught by the best teacher would learn twice as fast as average, while those taught by the worst teacher would make only half the average progress.
But while there is now broad agreement that teaching quality is the key, working out what to do about it is another.
The White Paper looks abroad for inspiration, noting admiringly that South Korea recruits teacher trainees from the top 5%, and Finland from the top 10%, of their school leavers.
So the White Paper proposes restricting government funding for post-graduate teacher training to those with at least a 2:2 degree.
It also proposes making the current numeracy and literacy tests for teachers much tougher and says it will reduce the number of re-takes that are allowed (currently one in seven re-sit at least one paper more than three times).
The government will also pilot assessments of "aptitude, personality and resilience" with the aim of introducing these into the selection process for trainee teachers.
But, as Dylan Wiliam argues, "replacing teachers with better ones" is a "very slow strategy" for improving teacher quality.
That is because the "churn-rate" for retiring teachers being replaced by new ones is only around 20,000 a year out of a teaching profession of some 400,000.
So it would take many years before the effects of the White Paper changes on teacher recruitment start to make a system-wide impact.
Of course, it would theoretically be possible to speed up the churn, by sacking more lower-performing teachers.
But that would be expensive as it would require training many more teachers at a time when rising pupil numbers are already putting this under pressure.
It would also mean political battles with teachers' unions.
So Dylan Wiliam says it may be better to focus more on improving the quality of existing teachers.
The White Paper, though, says rather more about initial teacher training than it does about professional development.
For Michael Gove, teaching is a "craft" that is best learnt on-the-job.
So the government plans to shift teacher training from the universities and into schools, creating "teaching schools" on the model of "teaching hospitals".
But Chris Husbands, director designate of the Institute of Education, thinks this sort of thinking is "based on a now outdated view of the distinction between 'theory' and 'practice' - in almost no other profession is this distinction seen as a sensible way of organising thinking about professional learning".
Rather awkwardly for the government, the wisdom of shifting teacher training out of universities appears to be contradicted by evidence just produced by Ofsted.
It found there was more "outstanding" teacher training in university-led partnerships than in school-based schemes (run by school consortia) or in schemes where trainees are employed by schools and learn on-the-job.
It also ignores the changes that have occurred in recent years, which mean that post-graduate teacher trainees already spend about two-thirds of their time in school and only one-third in university.
Debbie Jack, head of education at Middlesex University, argues that access to the latest research on teaching is important so trainees gain knowledge that goes wider than is likely to be provided by their in-school mentors.
As she warns, "this balance could well be lost" if trainees spent all their time in schools.
There is, of course, one reform that could ensure that trainee teachers spend more time learning on-the-job without losing the wider preparation university offers.
This would be to double the length of post-graduate teacher training to two-years, putting it on a par with post-graduate training for lawyers.
But that may prove too expensive - and too slow - for the government.
Meanwhile that leaves what Dylan Wiliam calls the "love the one you're with strategy", namely improving the quality of existing teachers.
He advocates this not because teachers aren't good enough, but because - he says - they can always be better.
He believes it requires school leaders to prioritise improve their teachers' skills, focusing on the things that make a difference to pupils, and giving teachers the time, space and support to improve.
And, as an incentive, he argues that teachers' annual pay increments could be tied to improvement in teaching skills.
The bottom line is that improving teacher quality will take time and money.
But the evidence of the impact on children's learning suggests that it should become the number one spending priority.
Mike Baker is a freelance journalist and broadcaster specialising in education.
Related Internet Links
The BBC is not responsible for the content of external sites.