School reforms 'could lead to more segregation'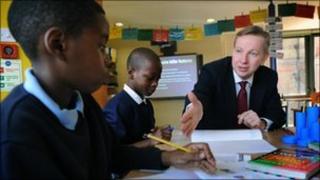 Plans to shake up the schools system could lead to increased segregation, the Department for Education's own research warns.
Boosting school choice could lead to parents selecting schools for their "peer groups", a study on the impact of its Schools White Paper says.
It also says schools would have to "adapt to raise standards or fail".
The government hopes its "pupil premium" will encourage schools to take pupils from poorer backgrounds.
Some £5bn is to be targeted at schools which take children from disadvantaged backgrounds over the four years of the comprehensive spending review period, according to the Department for Education report.
The warnings come in the department's own economic assessment of the Schools White Paper, which was presented to Parliament by Education Secretary Michael Gove last week.
It describes how the changes it is making to the schools system - increasing the number of autonomous academies and free schools, and reducing bureaucracy around school admissions - will create more of a market between schools.
'Adapt or fail'
But it is clear that proposals which "rely on the market to improve standards, such as free schools, depend on how the market responds, which is difficult to predict".
It adds that there will be implications for the costs and benefits of these proposals if economic conditions are different from those that are expected to emerge.
"More parental choice can increase standards by encouraging competition among schools," it says.
"Increasing parental choice and linking school finances to individual pupils creates a direct incentive for schools: unpopular schools lose pupils and money, while popular schools gain pupils and additional funding.
"Schools must adapt to increase standards and meet parental demands or fail."
It argues that increasing choice will boost "productive efficiency" by raising educational standards.
'Surplus places'
But it warns of an "increase in stratification" and says "there is a risk that parents select schools based on peer groups, where schools compete to attract particular groups of people, where barriers to choice result in segregation".
However, the report goes on to say that it hopes a strong admissions code will reduce the risk of this.
The report also looks at the government's policy of allowing private and voluntary providers to set up so-called "free schools".
It suggests there are high costs associated with the plans. These include the extra start-up costs and higher costs linked to what will probably be a small number of pupils in such schools.
It says: "There may be lower running costs but these may be offset by the diseconomies of scale associated with small schools.
"A degree of surplus places is necessary in encouraging school choice and competition between schools and this will provide some benefit where standards are increased, but there is also cost to providing surplus places which should be noted."
A spokesman for the Department for Education said: "Currently, too many parents find themselves without the option of a good local school place for their child.
"That is why we are reforming our education system, and free schools form an integral part of improving choice for parents and raising standards for all young people. Proposers will need to demonstrate demand for the new school."
The general secretary of the NASUWT teaching union, Chris Keates, said the research confirmed everything that his organisation had been saying about free schools.
"Sweden, where the free schools idea came from, is expressing real concerns about segregation and divisiveness in the same way that concerns are being expressed about the charter schools in the US," she said.
She added that it was clear that free schools and academies would cost the taxpayer more money.