What changed the student apathy?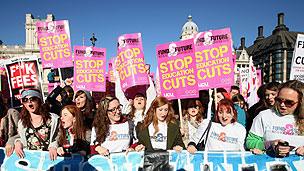 Dozens of universities are occupied, students have staged street protests against tuition fee increases - in the biggest wave of student activism for years.
What is causing this changed mood? The editor of the London Student newspaper, Joe Rennison, explains the ingredients that have sparked the protests.
This week will see the culmination of the student protests against a rise in tuition fees and cuts to higher education. But what is it about fees and cuts that is motivating students to take to the streets?
After years of relative apathy, what has led to the sudden rise in student activism seen across the UK over the past few weeks?
The defining characteristic is that the issue of fees will directly affect all students.
As a student, it is easy to become disengaged from national politics. It is sometimes hard to see how it really makes a difference to your life.
Student politics is dominated by a few interested people, in the same way that any university society is, from football to the orchestra. However, fees and cuts have engaged the student population because it is obvious how they relate to all students' lives.
Many students voted for the Liberal Democrat party and to see many of their MPs back-pedalling over their pledge not to raise tuition fees makes students feel slighted and lied to - making these protests ever more personal.
It embeds the idea that this is a fight against an issue that directly affects students, against a Liberal Democrat party that has directly rescinded on their promise to students.
This broken promise is not the cause of these protests and arguments. However, they would not exist with the same vigour.
Furthermore, there is broad consensus among students' unions to oppose fees and cuts, with nearly all students' unions having policy to do so.
Additionally, NUS has ploughed resources into nationwide events, such as the demonstration on November 10.
This support among student groups is then amplified by calls of "solidarity" from the RMT, UCU and other trade unions. At campaign planning meetings, a message of "students and workers unite and fight" is rung out over and over. This cross-sector support further adds to the scale of the protests.
This widespread support is reflected in those who are seen in occupation or on the picket line. These students are not just anarchists, Marxists and far-left revolutionaries. These are everyday students. These are students previously uninterested in "the student movement".
At Millbank it was not only anarchists smashing windows. It was everyday students inside the Tower, smashing the glass, pulling out CCTV cameras and engaging in the same tactics that we might usually associate with "radicals".
This is not to say all students support the violence, or even that all students oppose fees and cuts. The student movement, as it stands, is fractured and divided.
Many international students, who already pay considerable fees, think home students should be paying more. Medical students, whose degrees cost around a quarter of a million pounds, largely feel they should be making a greater contribution.
This applies to many studying STEM (science, technology, engineering and maths) subjects, which generally cost more to teach. For example, Imperial college, which exclusively teaches science-based subjects, passed policy to support the Browne review, against the trend of most students' unions.
Even those who oppose fees and cuts are not united as to how this opposition should be expressed. Not all who oppose fees and cuts support occupations.
Not all who attend the marches support the vandalism and violence that has been seen. These divisions pose a threat to the campaign and must remain in the background if students are to win the fight.
In spite of these divisions, this has already been the largest instance of student activism this century. As MPs prepare to vote on whether to increase tuition fees this Thursday, they do so with the awareness that anything but a "no" will anger thousands of protesters.
For Liberal Democrats, anything but a "no" is likely to lose them support from the students that helped elect them.
Over the coming days we are likely to see students taking to the streets once more. Weeks of student activism are about to reach their climax. Whether they will be successful, only time will tell.