How will universities cope without teaching grants?
By Hannah Richardson
BBC News education reporter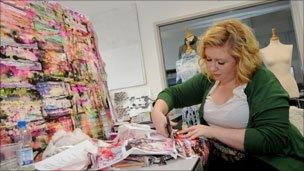 The University of the Creative Arts is a popular university - it saw a 55% increase in the number of applications for its courses last year.
But because of government plans to axe the teaching grant and raise tuition fees to replace it, the university is set to lose 40% of its guaranteed income.
As MPs prepare to vote on plans to raise tuition fees, an army of consultants and analysts more commonly seen in big business is number-crunching hard on campuses like the five in Surrey and Kent that make up the UCA.
Along with the nation's vice-chancellors, they are focusing on two things - how removing teaching grants from university coffers will affect what they can do, and whether they can get their sort of student to make up the shortfall.
The government plans to phase out the teaching grant for all subjects - save for science, technology, engineering and maths or "Stem" subjects - bringing about a regime change in university funding.
UCA pro-vice chancellor Seymour Rowerth-Stokes says that if the plans go ahead the funding of university teaching will effectively shift from the taxpayer to the student, creating a free market in courses.
And as all the subjects UCA currently offers are arts, the university is particularly exposed and it is having to turn to the tactics of the supermarket to preserve what it can offer.
A former designer, Mr Rowerth-Stokes adds: "We are undertaking an extensive evaluation of what we offer - reviewing all our subject areas.
"We are doing analysis and have commissioned research on the appetite for paying higher fees."
They are also market-testing individual courses and trying to determine what level of fees they can command.
Mr Rowerth-Stokes is confident that UCA will still see an increasing demand for what it offers and that students will want to be part of an art school tradition, following in the footsteps of famous alumni such as Tracey Emin and Karen Millen.
But he warns that there is a risk if the wider university sector "retracts to what they know".
"It's completely unpredictable - we do not know the implications of this. We can look around the world and see what's happening but we do not know what it will do in England."
At his university, however, he is clear that there is a need for "a balanced portfolio of subjects."
"But we will need to look quite closely at provision where there's not sufficient student demand in the longer term."
However, it is not as simple as letting the student market decide, says Mr Rowerth-Stokes.
University managers will have to work even harder than they do now to anticipate the future needs of industry and the future desires of students.
"It's the job of our university to be at the leading edge of the creative arts industry," he says.
And being at the leading edge means pushing boundaries and taking risks - risks that are not so easily taken without the protective cushion of a government subsidy.
"It means developing courses that may start with smaller cohorts and develop into larger groups as they grow and develop," he adds.
This is particularly important in England, which has the highest contribution per capita to its GDP of any country, he argues.
This might well result in a quasi-supermarket approach to higher education provision, he suggests, where universities cross-subsidise courses across departments in order to be able to offer a wider range overall.
"We would want to be making a logical balance between subjects that are high volume, and high demand such as fashion, cinematics, photography, design and architecture to counteract high cost and low volume courses.
"This is your loss leader if you like."
But according to Mr Rowerth-Stokes, offering low cost courses is the last thing most universities will want to do.
He says research suggests that institutions that charge a low fee find they are seen as low quality.
"There's almost a temptation to charge a higher fee to make sure that you don't damage your reputation."
The Tesco Finest approach, perhaps?
He adds: "We know we need to charge about £7,000 or £7,500 to stand still. We aim to give our students a high quality experience - so we think we will charge a higher fee than that."
But with higher fees come higher expectations, and the university is mindful of this.
"We could take the view that this is a fantastic opportunity to raise our prices and completely use it as a marketing opportunity.
"But we need to take a balanced approach that recognises that we need to support and develop subjects," he adds.