Pupils stage university tuition fee rise occupations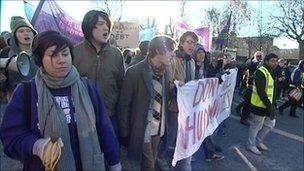 Pupils at some London schools say they will sleep in school to protest against plans to triple tuition fees in England and cut university funding.
There have been demonstrations across England and Scotland in the build-up to Thursday's Commons' vote on the controversial plans.
Protests are taking place at Camden School for Girls and Acland Burghley schools in the north of the capital.
Ministers have announced new concessions to their proposals.
They say they are fair and will safeguard the future of England's universities.
Tuition fees are due to rise to a maximum of £9,000 a year from the present level of £3,290 - a move which ministers say will secure the future of university funding.
The changes are due to take place from 2012.
The National Union of Students has been staging a national day of action and on Thursday there will be a lobby of Parliament. Academics and other university staff took part.
About 1,000 demonstrators marched through Leeds and peaceful protests took place in about a dozen other cities in England and Scotland, including Birmingham, Sheffield and Edinburgh.
Occupations have been continuing at about 20 universities, including Exeter and Leeds - where protestors have been in a lecture theatre since 24 November.
In London, some pupils at Camden School for Girls say they are staging an overnight occupation, before joining the demonstrations planned in London on Thursday.
BBC News spoke to a 17-year-old who said he was inside the school's sixth-form hall, where he said about 100 pupils planned to spend the night. The group then sent pictures of the hall.
The boy, who did not give his name, said: "The occupation is going ahead. It's pretty successful. At the moment there are about 100 people here."
Pupils say they have been asked to leave several times, but were determined to stay.
"We are not budging," said the student. "We want to show our solidarity with the rest of students nationwide."
The pupils attended lessons as normal during the day but then joined a sit-in in the sixth-form hall during breaks.
At Acland Burghley School in north London, pupils were sent home early because of a planned occupation.
A message from the head teacher Jo Armitage on the school's website said the decision was taken on the grounds of pupil safety.
But later, sixth-form students were allowed back in to hold a protest meeting in the school hall which ended on Wednesday evening.
Pupils arrived this afternoon with sleeping bags and told the BBC News website they were planning on staying.
Joseph, 17, said: "We are going to occupy the school overnight. I don't think it's right that the government is increasing fees to £9,000.
"The government is condemning students to heavy debts for years to come."
Ms Armitage later told BBC News the pupils were not being allowed to stay and she expected them to leave.
On Wednesday morning, the government said the £21,000 salary at which graduates start repaying their fees would be uprated each year for inflation.
The plan had been to increase it in line with inflation every five years.
And more part-time students will be able to apply for student loans. They will become eligible if they study for a quarter of the year rather than a third as planned.
In London, a flash "teach-in" demonstration was held by protestors at Euston Station.
Earlier, a group dressed as suffragettes demonstrated outside the constituency offices of Lib Dem minister Lynne Featherstone in north London.
NUS women's officer Olivia Bailey said as equalities minister, Ms Featherstone was a key target for students wanting to persuade Lib Dems to vote against the changes.
She said women would suffer more under the proposals because they would take longer to pay off their student loans and therefore pay more interest.
"We are dressed as suffragettes because the real suffragettes fought for women's rights and for women's rights to education," she told BBC News.
"If this bill is passed it will be a step backwards for women's education."
Students in Scotland are staging protests too - even though the changes being voted on on Thursday will only affect England directly.
They are worried a tuition fee rise in England will fuel calls for the re-introduction of graduate contributions in Scotland and mean that Scottish students studying in England will incur more debts.
Demonstrations took place in Edinburgh, Glasgow, Stirling, Aberdeen and Dundee.
Liam Burns, president of NUS Scotland, said: "Thousands of students, pupils, teachers and workers across Scotland are braving sub-zero temperature and dangerous roads to make it clear to people and politicians all over the UK that the Westminster vote to increase tuition fees is far from an English-only matter."
The Welsh Assembly has announced that university fees will rise in Wales to up to £9,000, but that Welsh students will have to pay no more than about £3,000 wherever they study in the UK.
Students going to Wales from England will be expected to pay full costs.
A lecturers' union is warning one in three English universities is at risk from the government's plans for universities in England.
The University and College Union says 49 out of 130 universities could face serious financial difficulties - and some could face mergers or closure.