David Willetts meets the tuition fees protest pupils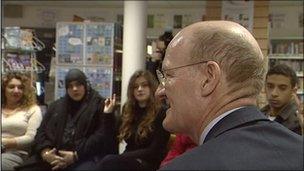 It was never going to be an easy audience.
The Universities Minister David Willetts was taking his message on the fairness of the government's tuition fees package to some sceptical sixth-formers in north London.
Mr Willetts is worried that the high-volume arguments about tuition fees are drowning out the information that young people need to make decisions about whether to apply to university.
In particular, he wants to send the message that no- one will have to pay upfront if and when tuition fees are raised to an upper level of £9,000 per year.
"I'm worried that young people think they will have to reach into their pockets before starting university - that's not the plan," he told sixth-formers at Quintin Kynaston School in St John's Wood.
But pupils were quick to point out that they did understand the workings of the plan, they just didn't like what it would mean for them.
And in particular they returned repeatedly to the sheer scale of the debt that would accompany higher fees.
"If fees have to be increased - then not by that amount, not tripled, it's massive," said Tamara Kalil.
"We're not going to be able to get a mortgage, when we're already paying off £30,000 or £40,000," she said.
"I will end up going to university, but it's going to make my life more difficult."
It was a very polite grilling, with a succession of unconvinced youngsters challenging the reassuring words of the universities minister.
Why should their generation pay so much more? Why should they be lumbered with debts that will take decades to pay off? Why should top universities be allowed to charge £9,000 per year if they admitted so few black students? What about education maintenance allowances?
A number of these youngsters had been on protests about fees and spending cuts and seemed well-versed in these arguments.
Mr Willetts, playing an impressively straight bat, stuck to the message that this was a fair deal and young people should not be put off from applying to university.
Increasing the number of graduates would make economies more prosperous, he argued, and the fee proposals would help to protect the financial future of the higher education system.
He kept returning to the concern that young ambitions could be thwarted by the fears being generated by the debate over university charges.
But afterwards the teenagers remained unconvinced. "He said it would be good in the long term. But in the long term we'll be paying much more," said Anna Trichkine.
It wasn't an acrimonious exchange. Not least because, as students said later, Mr Willetts isn't from the Liberal Democrats, who have become such targets for protesters.
For this generation of student protesters, Nick Clegg has gone from Kennedy to Nixon in the space of a few months.
If there is confusion among young people over the fees package, there have been warnings that the handbrake turns and machinations of the political process might be part of the problem.
Sir Bob Burgess, vice-chancellor of the University of Leicester, has warned of "compromises that may work politically, but do not work well when it comes to handling the situation on the ground".
"The danger is that the more complicated they make the new system, the harder it will be for us to communicate it to prospective students and their parents."
The pupils at the school also talked about their sense that their views were not being heard on decisions which are going to affect their lives.
"It feels like they're not listening," said sixth-former Donna Tester. "It's meant to be about democracy and people power, but it feels like we don't have any power at all."
After meeting the students, Mr Willetts also talked about the wider underlying concerns of this new protest generation.
"Part of the reason for the protests is that there are deep anxieties among young people about getting started on the housing ladder, about how they're going to find a well-paid job.
"They're the underlying issues. But I think we're going to get a better university system out of these reforms, so I think this will be helping young people, not undermining their prospects.
"When you look at all the options, this is the fairest way forward."