Student tuition fees protests across the UK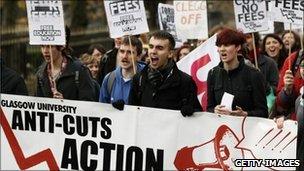 Students are staging protests across the UK as MPs debate controversial plans to increase university tuition fees.
Some have left university buildings they were occupying to join pupils and lecturers marching on the streets of their own towns and cities.
Others boarded coaches headed for London, where a march is underway.
Protesters are converging on Westminster where the debate is being held.
Several hundred students and school pupils are marching through snow and ice and into central Glasgow in protest against the cuts.
Students and lecturers from a number of Scottish universities have left their occupation at Glasgow University's Gilmorehill Theatre to join noisy but good natured protesters on the the streets of the city.
They are on a tour of alleged tax-dodgers, in an attempt to highlight businesses that are avoiding paying tax to the Treasury.
About 50 students have been taking part in a noisy rally in a square in central Swansea.
There have been speeches from student activists from both Swansea Metropolitan University and the Swansea University.
And protesters have been banging drums, singing, waving banners and shouting slogans against the planned fees rises.
Children as young as 11 marched alongside octogenarians in Newcastle, where up 3,000 students, pupils, parents and workers took part in protests.
The crowds were given a standing ovation as they marched past civic offices in the city centre.
Protesters described a good-natured "carnival atmosphere" with students playing music and banging drums as they marched.
The protesters marched down the city's main shopping street to show solidarity with students involved in the two-week-old occupation of Newcastle University.
And many pupils left schools between lessons to take part in the protests.
A largely good-natured demonstration involving nearly 200 people became more heated after the crowd spilled out on to the main route in front of Belfast City Hall.
Police made four arrests after students blocked traffic in the centre of the city.
A protest in Brighton, East Sussex, passed off peacefully with only one arrest, which was for a public order offence after someone failed to remove an offensive banner from display.
Sussex Police said around 150 people took part in the march through the city centre and that it caused little disruption.