Universities prepare to raise fees amid protest pledge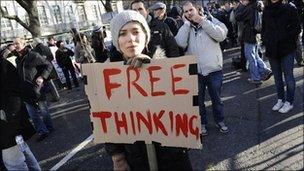 Universities in England are preparing to raise tuition fees as students pledge to continue their fight against them.
The Commons' vote to allow universities to set fees of up to £9,000 a year marks a turning point, say university vice chancellors.
Fees will rise in 2012 and academics are predicting a late rush for places for next year.
Students say they were "betrayed" but their new wave of activism will go on.
Thousands protested outside Parliament on Thursday as MPs voted to go ahead with coalition plans to let universities raise fees before violence erupted.
President of the National Union of Students Aaron Porter said students were "incredibly disappointed and angry".
"We've taken to the streets in our thousands, won the arguments and the battle for public opinion. We have lost in the House of Commons only because MPs have broken their promises," he said.
"But this is not the end and our protests and our work have sparked a new wave of activism which will grow stronger by the day.
"As they come for the education maintenance allowance, as they seek to raise interest rates on our loans and as they peddle lies about fairness we will expose their betrayal."
University vice chancellors have been preparing for the decision for a long time - but say they will not be able to make firm decisions on fee levels until after the government tells the sector what it will get in terms of funding.
The government has said it is cutting spending on universities by 40% over the next four years - but plans to remove teaching budgets from all but maths and science-related subjects - expecting other courses to become self-financing through increased fees.
This could result in an 80% cut in the teaching budget, universities say.
Universities UK - which represents university leaders - had backed the fee rise, saying it was the best available option.
The body's president, Professor Steve Smith, said: "The passing of this vote marks a turning point in the funding of universities in England.
"No one takes any pleasure in asking graduates to take on more debt. But the cuts to the higher education budget are a reality and we must make sure that our universities are properly funded to deliver the high standards that students rightly demand, without cutting back on places."
The vote was crucial to providing financial stability for universities so they could plan their future, he said.
Universities will now firm up plans for fee rises.
MPs voted to allow universities to raise fees from their present level of £3,290 to £6,000 a year, with an upper limit of £9,000.
Russell Group universities are widely expected to opt to charge the top amount for courses but many believe most universities will want to charge at least £7,000.
The University and College Union (UCU) says that is the amount most universities will need to break even and replace lost income.
Pam Tatlow, of the Million Plus think tank, which grew out of an organisation for new universities, believes that could be an under-estimate.
"There will not be any race to the bottom," she said.
"To be financially sustainable, universities will have to charge more."
The government had based its calculations on the likely impact of fee rises on an average of £7,500, she said.
The group is disappointed MPs voted for the fee rise, saying the change will damage social mobility and access to university.
It wants clarification from the government on its proposals to ease the burden of fees on poorer students, fearing universities which traditionally take more students on low incomes will lose out.
Universities will learn later this month how much they will get as a whole for the next academic year but will not get individual allocations until the spring.
Dr Wendy Piatt, director general of the Russell Group of universities, said the group was relieved that the vote had been passed because it believed higher graduate contributions were the only way of "maintaining a world-class, fair and sustainable higher education system in England".
Speaking on BBC television news, she said: "It's hard to predict how universities will react when it comes to the levels of fees.
"We are also not 100% sure what money we will receive, but certainly a lot of Russell Group universities will be thinking about going to the upper level of that limit."
The government says the new fee system is fair and more progressive than the existing one.
The Business Secretary Vince Cable told BBC News: "I think my colleagues accepted, however they voted, that I and my colleagues in the government, we acted responsibly, that we had protected universities and maintained them as viable and strong institutions and produced a policy towards future graduates which is fairer and more progressive than the system we inherited."
Related Internet Links
The BBC is not responsible for the content of external sites.